Real-life stories from young people who have taken their first steps towards promising careers in retail through Jump Start
Working in the world of retail can be challenging but the dynamic industry also offers individuals the opportunity to succeed in a career that holds endless opportunities for growth. MRP Foundation's Jump Start Entry Level programme offers motivated youth a chance to learn first-hand about the retail world: the basics of the universal trade, the tools to becoming a sales associate and the life skills required to succeed in the workplace.
Nathaly Witbooi
Skills Development Programme: Jump Start Retail Entry Level Programme, 2018
Post Jump Start Employment: MRP Table Bay Mall, Store Associate, 2018
Current Employer and Position: MRP Table Bay Mall, Sales Associate, 2019
After matriculating in 2014,  Nathaly Witbooi completed an internship and had a small contract but had not found other employment for a while. After a year of being home and unemployed, the 24-year-old decided to give retail a try after seeing a Facebook post about Jump Start training in her area.
"As an individual who can get depressed, the training helped a lot. Many of the classes taught life skills and how to prioritise finances. The facilitator was really good and I felt prepared for work experience." After her in-store training, Nathaly waited for a few months before receiving a call from the Manager at MRP at Table Bay. During this time, "It was nice that the people from Jump Start called back regularly to ask if I had a job yet."
Nathaly now works in the Kids Department at MRP in Table Bay. Her daily work includes ensuring all stock is correctly organised, the space is presentable and assisting at the till.
Nathaly describes herself as an artistic person and would love to pursue this passion at some stage. Her daily motivation is understanding that she is the only person who can create success in her life: "There's nothing else to do but get up and do it, you have to go and get it, it's up to you."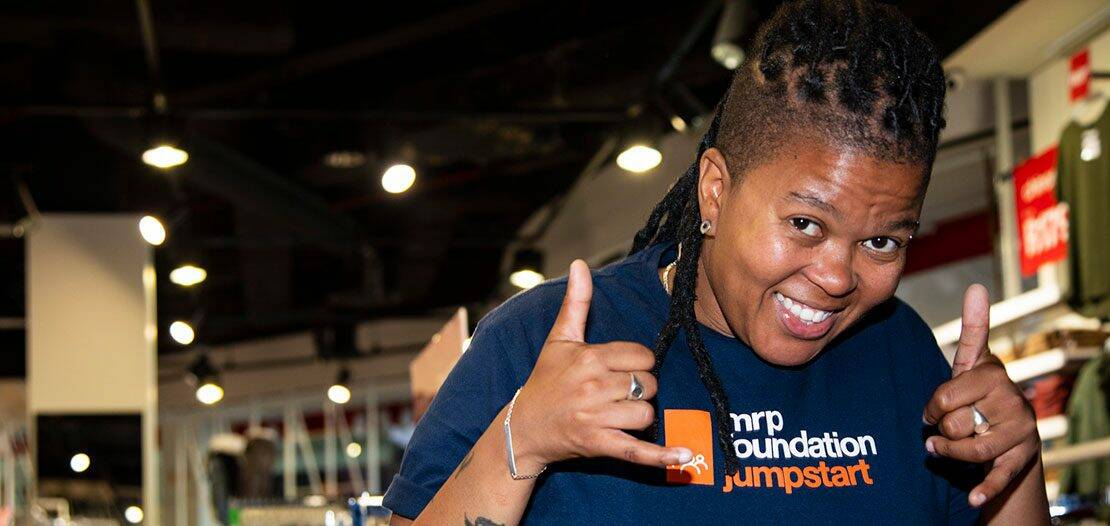 Meresha Bosman
Skills Development Programme: Jump Start Retail Entry Level Programme, 2018
Post Jump Start Employment:  MRP Eerste River, Store Associate, 2018
Current Employer and Position:  MRP Eerste River, Sales Associate, 2019
Meresha Bosman is so happy that she has a job. The 31-year-old works in the Shoe Department at MRP in Eerste River and was offered a permanent position with the fashion retailer very shortly after completing her Jump Start training — her dedication and willingness to learn immediately impressing her manager.
"Jump Start taught me life skills, how to communicate and how to handle situations, like a fellow colleague not doing their part. I had never worked in retail but I learn something new every day. Folding is not just folding, hangers are not just hangers; it's also about styles and designs."
After matriculating, Meresha worked in a few jobs including being a picker for another retailer but always hoped for permanent employment with an opportunity for growth. "You can't be in the same position for too long or become too comfortable. I want to grow and work my way up in this company. If there is an opportunity I will take it."
Her advice to those looking to grow in their career is: "This is a great opportunity for anybody because you learn every day. Take the opportunity because you never know where you can end up."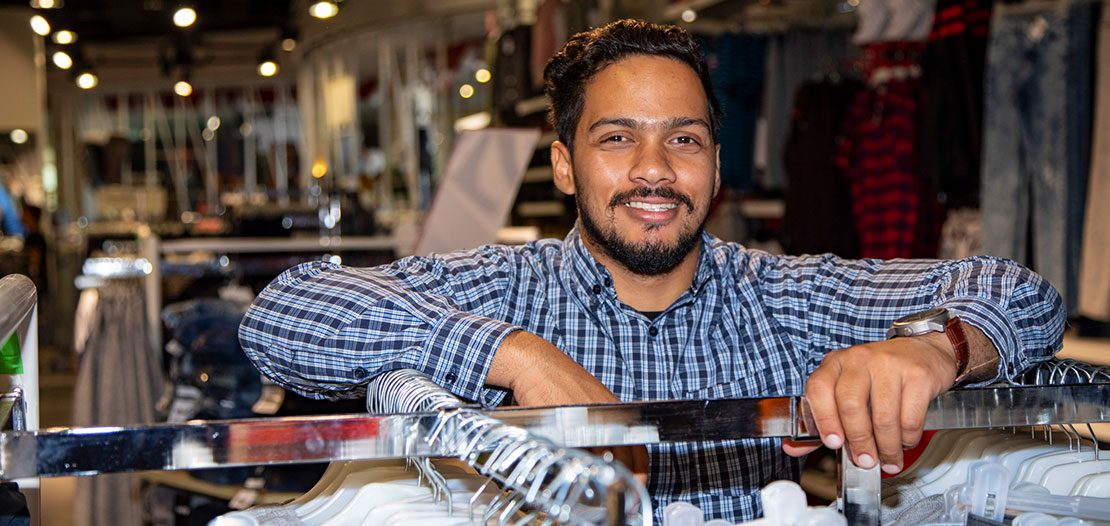 Ethen Abrahams
Career Start: Part-timer, MRP in Wellington
Current Employer and Position: MRP Canal Walk, Store Manager, 2011
As a Store Manager, it is Ethen Abrahams' role to look after the general operations of the store, the staff, and to guide Jump Starters through their week of in-store training. Ethen is no stranger to the retail world, and started his career journey as a 'part-timer' in a MRP store when he was just 16-years old.
"I loved the culture of the business and it took one person to believe in me to get to where I am. My role has changed from a small store, to a medium store, to a large store and now an extra large store. Where my role now allows me to give back opportunity to others."
His first-hand experience of Jump Start has been positive. "Jump Start identifies people that can grow in their role; it's a great initiative to bring the right people with the right talent into stores. The candidates have been screened, they are prepared, willing and dedicated."
His career dream is to become a regional leader who will ensure that he grows a talent pipeline of future store leaders who will be readily prepared to take on key leadership positions. "I believe people must grow in their respective careers and it's my mission to identify talent and grow people. I want to show them that retail is not just a job but a career where there is opportunity to grow and achieve your goals."