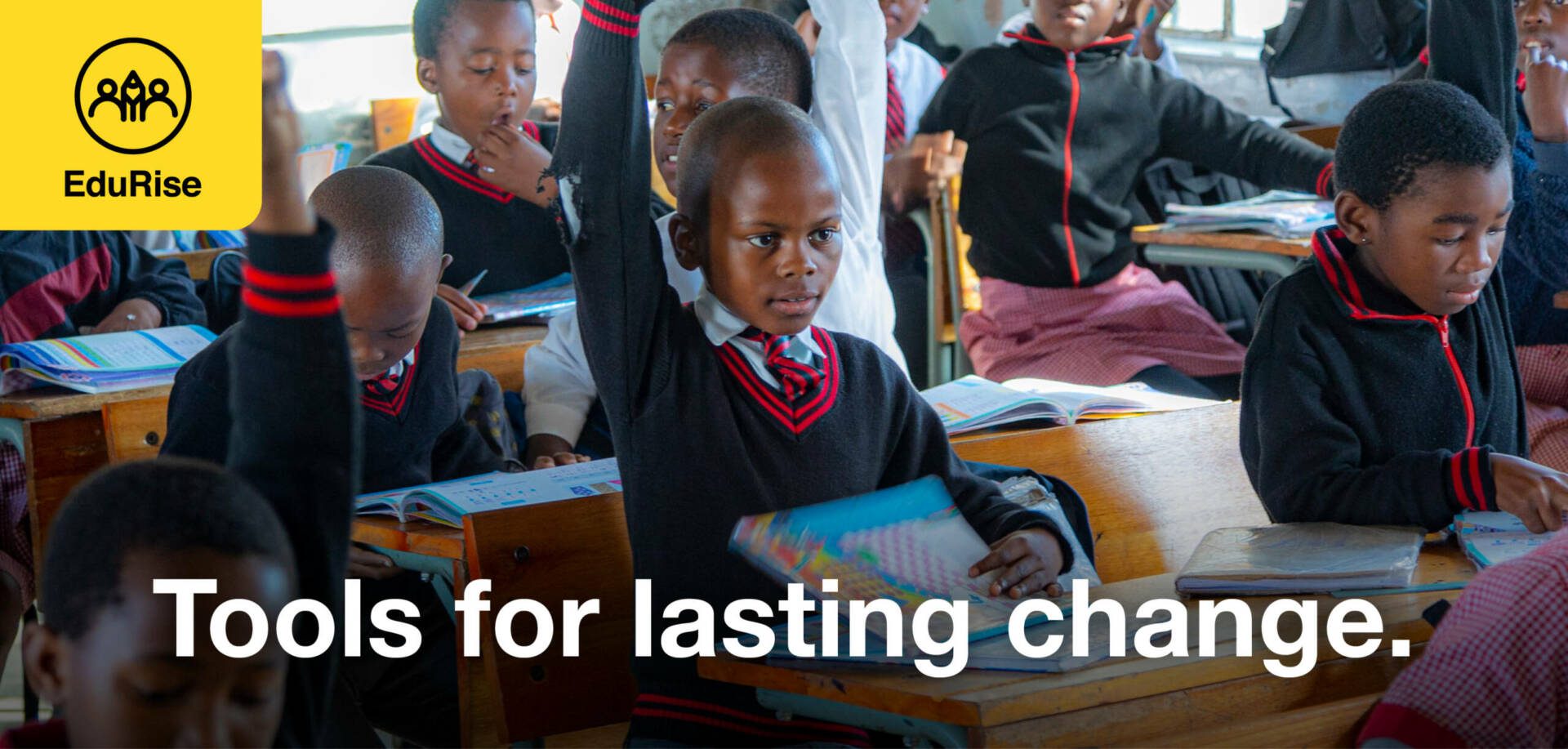 EDURISE EQUIPS equips educators with sustainable resources for classrooms across South Africa. Here's how your support brings lasting change. 
Each term, Grade R to Grade 3 educators at EduRise-supported schools receive a special gift from Mr Price Foundation: a resource box capable of delivering around 15 activities for young learners. 
"These boxes contain manipulatives which learners can handle to help them learn basic concepts. These manipulatives are easy to make so educators can replicate them," said Head of EduRise, Pain Mashingaidze.
Tools are created using recyclable material, such as paper plates, spoons and ice-cream sticks. Educators are equipped to use easily-available resources like theseto improve their teaching methods, and to utilize common household items such as flour, food colouring, cardboard and tissues for art classes. EduRise also offers educators support through visits, videos, manuals and WhatsApp, to understand how best to utilise and replicate these kits.  
Ms Magwaza, an educator at Entendeleni Junior Primary School in Hammarsdale, has noted a marked improvement in learners since EduRise started supporting her school. 
"Ever since EduRise came to our school, the competency level for learners has increased. They have given us resources to use in the classroom," said Ms Magwaza. 
Ms Magwaza is happy that EduRise is based on comprehensive research and is aligned with the Department of Basic Education's CAPS policy. "They have offered us resources which help make learning and teaching easier for us," she added.  
Principal Mkhabela of Emaxulwini Primary School in Hammarsdale, said the resource boxes have appreciated by teachers. "Teachers make use of the resources supplied by Mr Price Foundation in the classroom, making lessons more effective and assisting us to achieve our outcomes," said Principal Mkhabela. 
The EduRise programme has been implemented in 98 primary schools in South Africa. It impacts almost 65,000 learners a day and has empowered over 1,800 educators this past year with valuable professional skills and content knowledge through workshops, tutorials and mentorships. 
Emaxulwini Primary School Grade 5 educator, Daniel Malinga, said his school has benefited greatly from the EduRise programme. 
"EduRise has been a plus to educators," said Mr Malinga. 
"Before EduRise, teachers found it very difficult to teach, especially as there was no equipment Now, those who are slow learners have the opportunity to express themselves freely and feel a part of the school. They even excel and surpass those who surpassed them in the classroom." 
Mr Price Foundation aims to break the cycle of poverty and inequality in South Africa through education and skills development programmes for youth.