Lethu opted to pursue a career in retail because of the constant challenges and excitement in the field.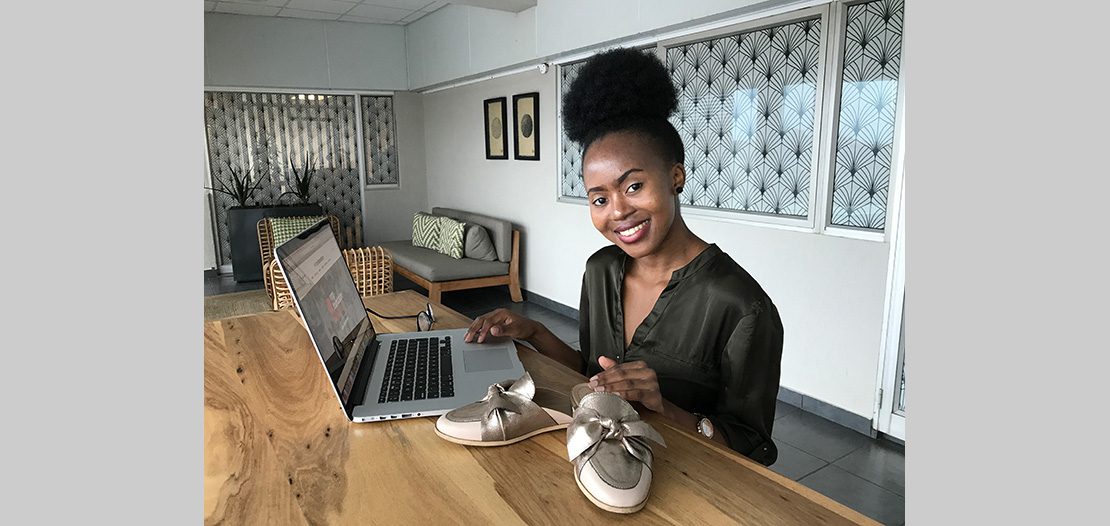 Twenty-two-year-old Lethukuthula Mlambo confidently walks in a pair of beautifully crafted shoes, which she made in forty-eight hours. Her unique gold shoes have become a talking point, because they were a product of her labour of love.
Lethu, as she is known to her friends, says:
"On my first day, the line manager told us we needed to make our own pair of shoes in order to understand the detail that goes into making just a single pair of shoes. We had to choose our own designs and find existing corresponding patterns and materials. We made the whole shoe ourselves, with a lot of help and re-doing along the way," she adds proudly. "What takes the factory 2-4 hours to make took us two full working days!"
The Jump Start Professional Retail Internship, which equips graduates with skills for buying, planning and operations management development and store management, requires students to complete a one-month internship in manufacturing, either at a footwear or apparel manufacturer. According to Lethu, this period gives students a holistic view and understanding of the whole value chain as merchants. "This will assist when making decisions because you understand how the production line works, and how that will affect your role and the product along its critical path," Lethu explains.
Lethu describes her amazing footwear-manufacturing experience:
"There is so much detail and measurement and patience that goes into a single pair of shoes. It took me out of my comfort zone in the most challenging way, but the final product really made me appreciate what went into creating it."
Graduating with a Bachelor of Commerce degree from the University of KwaZulu-Natal, Lethu has a passion to forge a path that will constantly allow her to add value to people's lives.
"Most South African communities have a high rate of financial illiteracy and lack of financial planning. I would love to give back to the community by educating them about finances and the importance of financial planning," she says.
Born and bred in Ezakheni, Ladysmith, Lethu opted to pursue a career in retail after graduating, because of the constant challenges and excitement in the field. Lethu registered for the Jump Start Retail Professional Programme, after the MRP Foundation made a presentation to final year students at the UKZN campus.
Jump Start has taught Lethu the importance of teamwork and the essential skills required to be a successful merchant. It has also highlighted the value of possessing a strong work ethic.
"Through the programme, I have grown extraordinarily as an individual," she says. "It has introduced me to numerous people in the retail industry that I would never have been able to access directly, let alone sit with them and learn from them."
The programme has equipped Lethu with critical retail industry skills, as well as experience throughout the whole value chain, from the manufacturer right through to stores and the support centre. "I have learnt important skills which are required in the workplace, skills that would have probably taken years to learn," she adds. The significance of teamwork and a strong work ethic are invaluable lessons that Lethu has acquired.
"Grab the opportunity and milk it for all its worth! Enjoy the journey but stop frequently, and take it all in," Lethu advises future Jump Starters. She warns, "It's not going to be easy. If you're expecting or want something easy, go and pursue something else."
Lethu lives by the motto, "Whatever it takes…" She explains, "Do whatever is necessary, whatever it takes to get it done. Make it happen if you really want it!" Lethu Mlambo dreams of eradicating financial illiteracy through educating people about the economy and finances. She will continue studying towards a postgraduate qualification in financial planning next year, while working as a retail planner.
Discover how you too can unlock your potential and join the retail world by applying for one of the MRP Foundation's skills development internships. Applications are now open to join the 2018 Pre-Production Programme and the Professional Retail Programme.
Our Retail Programme develops skills to assist youth in becoming employable in a variety of careers that span the retail industry. These programmes include training for entry-level positions in stores, sales, distribution centres and financial services as well as offering graduates the opportunity to learn professional retail skills for buying, planning, operations management development and store management.
Words by Farzanah Asmal