Over 8000 km cycled to break the cycle of poverty and inequality
Since 2010 a group of committed cyclists have tackled the Ride for MRP Foundation, a gruelling 606 km ride with purpose from Johannesburg to Durban spanned over two days, to break the cycle of poverty and inequality in South Africa. This year's edition (December 2 – 3) will see Leon Crous and Dave Duke, who have both completed the Ride for MRP Foundation 7 times resulting in over 8000 km of road time between them, cycling the endurance ride wearing the respected yellow jersey.
To reward cyclists for committing to the cause year after year, cyclists ride in different colour jerseys dependant on the number of times they've completed the challenge. First and second time cyclists ride in white, third and fourth time cyclists in pink, five times or more in green and the yellow jersey is worn by the riders who have completed the event the most times. The Absa Red Jersey is worn by the cyclist who has raised the most funds from the previous edition.
Dave and Leon, the two cyclists riding in yellow, are not professional athletes and have to find time during their busy work and life schedules to train for the grueling event. Craig Jones, who originally started the fundraising event nine years ago and would have been cycling for the ninth time, had to bow out of this year's edition for health reasons.
Both cyclists feel the responsibility and honour of riding in yellow for the first time, with Dave, General Manager of SMEC – Urban and Social Development – Africa Division, saying:
"It is an honour to be riding in yellow but it's more about the ride than being in yellow. I look forward to this every year — that sense of achievement and uplifting feeling you get from spending time with your colleagues. I keep coming back because it's the best two days you will ever spend on a bike and I'll be back for the next year's tenth edition. The cherry on top is knowing that what you're doing will help other people."
For Leon, Director of REPS (Real Estate and Property Service), "The jerseys challenge riders to come back. Being in yellow, it's important to raise as much funding as I can and be an example to first timer riders so that they return. I love challenges and I have a never say die attitude to raise as much funds for MRP Foundation as I can."
This year's Ride for MRP Foundation is hoping to raise over R1 million for the MRP Foundation, with funds raised going towards empowering thousands of young South Africans through skills development and education programmes. From 2007 – 2011 MRP Foundation's Entry Level Retail Programme trained 28,010 youth with 12,714 placed in jobs. In 2017 over 1,500 educators were empowered with professional skills and content knowledge and since 2005 over 300,000 learners from 260 schools have benefitted from the Physical Education Programme. MRP Foundation also supports 31 Early Childhood Development Centres in Hammarsdale, KwaZulu-Natal, and 31 Early Childhood Development Centres in QwaQwa, Free State.
The 2018 Ride for MRP Foundation edition partners are: Absa, CMH Nissan Durban, SPAR, Maxed, Expand-a-Sign, City Logistics, Zapper, Trader Plus, Corruseal, KTM, Westville Cycle Club, Giant, Cyclesphere, SA Rugby Legends and Hirt and Carter.
How to enter the win-a-car competition
The public can also get involved with the fundraising ride by entering a competition to win a new Nissan Micra Active from CMH Nissan Durban. SMS "MICRA" and your full name to 38417 at a cost of R20.00 per SMS (free SMS do not apply) or enter via Zapper (on your smartphone) at R20.00 per entry.
Competition runs from 20 September 2018 till 30 March 2019. Any entries received after the closing date will not be considered. Terms and Conditions apply.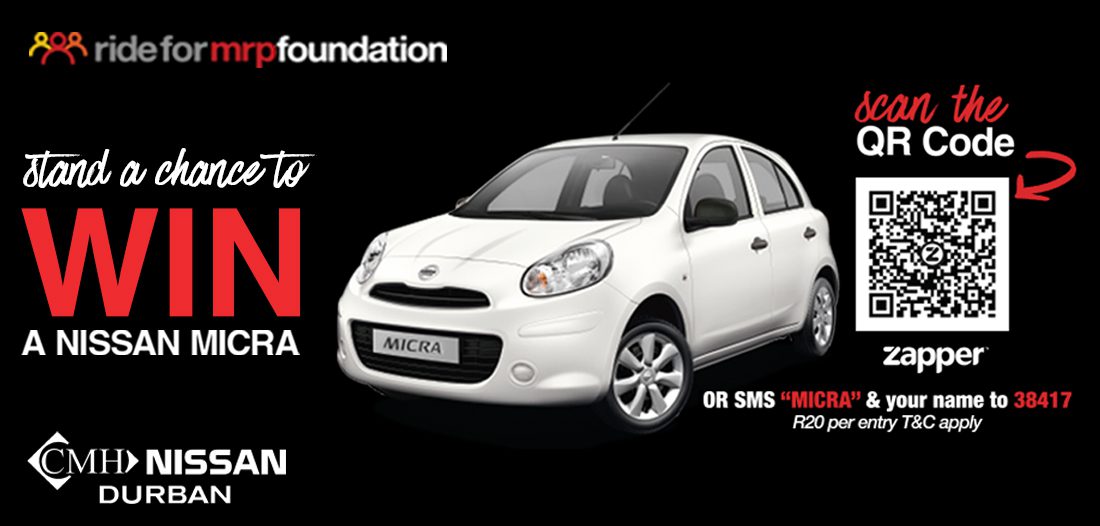 Jersey classifications:
Red Jersey – Absa Red Jersey for cyclist who has raised most funds from previous ride
Yellow – Riders who have completed the most number of rides
Green – Five rides or more
Pink – Three or four rides
White – Rookies, first and second rides
GAUTENG:
Yellow Jersey: Leon Crous (Ruimsig, 7)
Pink Jersey: Nigel Payne (Sandton, 3), Nolan Waldhausen (Parkhurst, 3), August Van Heerden (Bryanston, 2), Geoffrey Lee (Parkwood, 2)
White Jersey: Matthew Lee (Lonehill, 1), Mike de St. Pern (Pretoria, 0), Shaun Ellis (Johannesburg, 0)
KWAZULU-NATAL:
Yellow Jersey: Dave Duke (Kloof, 7)
Green Jersey: Keagan Matthews (Hillcrest Park, 6), Michael Viljoen (Morningside, 5), Greg Stedman (Kloof, 4), Michael Rowland (Hillcrest, 4), John Campbell (Hillcrest, 4), Jonathan Morse (Ballito, 4)
Pink Jersey: Bruce McDonald (Hillcrest, 3), Randy Walker (Treasure Beach, 3), Travis Stedman (Kloof, 3), Rob Alexander (Pietermaritzburg, 2), Quintus van der Berg (Umhlanga Rocks, 2), Dylan Cherry (Kloof, 2), Wayne Englund (Kloof, 3), Paul Kraus (Hillcrest, 2)
White Jersey: Tiffany Keep (Gillitts, 1), Andrew Bateson (Ballito, 1), Mboneni Ngcobo (Cato Ridge, 1), Mark Sterley (Durban North, 1), Matthew Wickham (Kloof, 1), Mhlengi Gwala (Chesterville, 1), Paul Mindry (Gillitts, 0), Glynis Pretorius (Hillcrest, 0), Shan Thomson (La Lucia, 0), Chloe Bateson (Ballito, 0), Lindokuhle (Linda) Mabika (Glenwood, 0), Shane Poplett (Westville, 0), Zisandele Mkhize (Durban, 0), Ray Whitmore (Hillcrest, 0), Rael Lurie (Cowies Hill, 0), Derrick Tivers (Ashley, 0), Stuart Bird (Assagay, 0), Arn de Haas (Glenwood), Paul Els (Kloof, 0), Wayne Fyvie (Assagay, 1), Mitchel Potgieter (Durban, 1), Iris Varty (Hillcrest, 0), Richard Critchlow (Glen Anil, 0), Warren Moolman (Westville, 0), Stuart Slater (Mount Edgecombe, 0), Roxann Message (Glenashley, 0), Rozanne Geldenhuys (Umhlanga, 0), Lauren Snell (Hillcrest, 0), Martin Hillerman (Hillcrest, 0), Kara Human (Durban North, 0), Mehul Mehta (Westville, 0), Vassos Criticos (Congella, 0), Brett Pollock (Everton, 0), Michael Cannon (Mount Edgecombe, 0), Wadih El Saadi (Durban, 0), Darrell Yeatman (Forest Hills, 0), Paul Muller (Bluff, 0), Stefan Terblanche (Mount Edgecombe, 0), Cath de Souza (Waterfall, 0), Paul Longe (Westville, 0)
Red Jersey: Tessa Hesse (Pietermaritzburg, 4)
WESTERN CAPE:
Pink Jersey: Taschyana Hurter (Greenpoint, 2)
White Jersey: Sarah Alexander (Newlands, 1), Mario Santana (Cape Town, 0), Kurt Faulmann (Cape Town, 0), Brett Glen (Lakeside, 0)
FREE STATE
White Jersey: Asive Dlanjwa (Park West, 0)
ROUTE: DAY 1 (2 DECEMBER) 346km:
04h30 Depart Secunda
09h00 Arrive in Standerton
09h30 Depart Standerton
12h30 Arrive in Volksrust
13h00 Depart Volksrust
18h00 Arrive in Ladysmith
ROUTE: DAY 2 (3 DECEMBER) 261km:
04h00 Depart Ladysmith
08h00 Mooi River
08h30 Depart Mooi River
10h30 Hilton
12h00 Polly Shorts
12h30 Depart Polly Shorts
16h00 Arrive in Durban at CMH Nissan