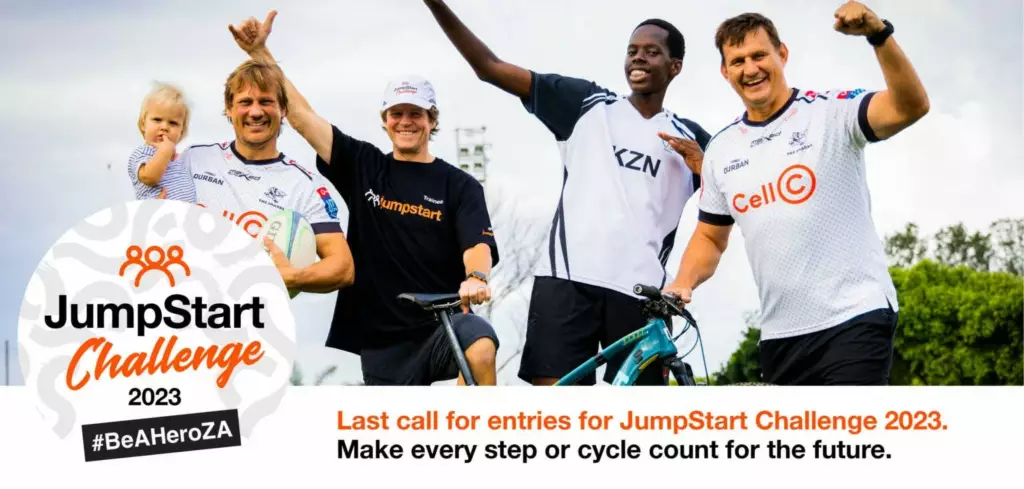 THE JUMPSTART CHALLENGE 2023 IS LIVE. If you've got FOMO, it's not too late! You've still got five days – so enter today and join the league of sporting heroes keeping fit for a great cause!
Every rand raised by this awesome event goes directly to Mr Price Foundation's JumpStart programme, to empower youth with life skills and work readiness training.
Online entries for the physical JumpStart Challenge at Holla Trails close at midnight on 1 March. But it's not over yet! Meet us at Holla Trails in Sugar Rush Park, Ballito, on 4 and 5 March and enter in person before the event. You can also enter online for the virtual JumpStart Challenge until midnight on 5 March.
Physical Events @ Holla Trails, Ballito
4 March: Mountain Bike Ride 
* 95km 6am start
* 50km 6.30am start
* 15km 7.30am start * Glide & Ride Cup for kids 8:30-11am
5 March Run/Walk: 
* 14km 7am start
* 8.5km 7.30am start
* 3.3km 8am start
Virtual Event @ Anywhere in the world
Ride: 15km, 50km, 100km
Run/Walk: 3km, 7km, 15km
The JumpStart Challenge 2023 has a hero theme – because youth are heroes to us when they use their new skills to gain employment and break the cycle of poverty and inequality. That's why you're a hero too, when you support JumpStart.
"Youth unemployment is at an alarming level in SA. The JumpStart programme creates hope for thousands of youth as we look to connect them to skills training and work opportunities in the greater retail value chain. In the past five years, 22 000 youth have been empowered by JumpStart training, with 52% going on to achieve employment," said Karen Wells, head of Mr Price Foundation.
Prizes will be awarded to the most creative hero dress up at Holla Trails. There will also be amazing giveaways, including 500 free caps and surprise prizes! So, grab your gear and get moving for a great cause.
We give a celebratory high-five to all those heroes who've already completed the virtual JumpStart Challenge.  
Thank you for opening a world of opportunity for thousands of unemployed youth every year.
Learn more about Mr Price Foundation and JumpStart.
#JumpStartChallengeZA #BeAHeroZA #MrPriceFoundation