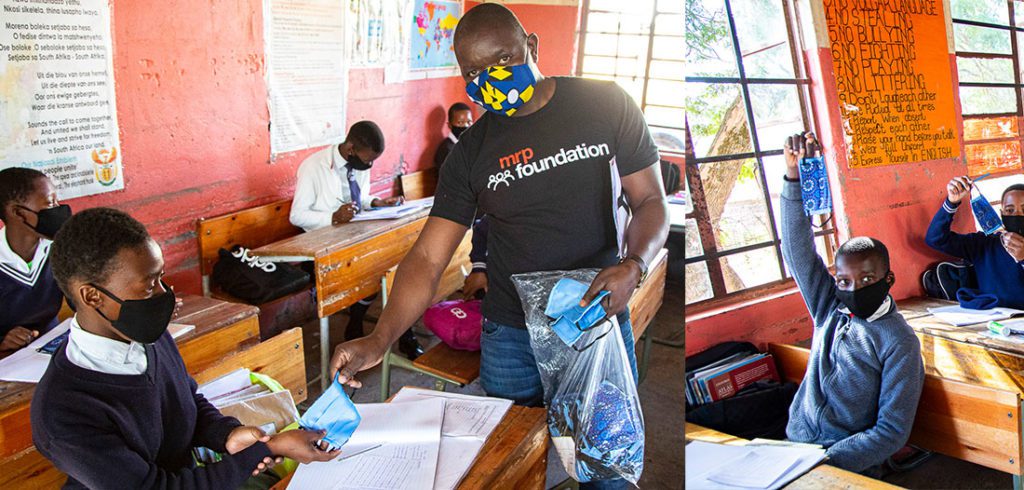 South African learners overcome challenges and are ready for the new school year
The Mr Price Foundation Schools Programme has provided support and guidance to schools throughout the COVID-19 pandemic

All 78,000 learners at our supported schools will be masked for the 2021 academic year

The programme has pivoted to ensure that the learning process continues, despite any challenges
Across the country, millions of young learners are eagerly preparing to return to school for the first term.
Despite the daunting challenges of school closures and disruptions brought on by the COVID-19 global pandemic, the Mr Price Foundation continues to provide invaluable support and guidance to schools, principals and educators during these uncertain times.
Through our #HopeToCope campaign, we continued to share tips, guidelines and websites for learners, parents and educators to make learning and teaching engaging and fun for 'homeschooling'. This comprehensive list of free learning resources, listed here, may still be useful for those learners not returning to school full-time.
Despite the challenges brought on by the global pandemic, there have been significant learnings since lockdowns started on March 27, 2020, regarding social distancing and gatherings.
Historically, our education programme has primarily relied on physically deploying interventions for school leaders, educators, learners and communities. Due to the programme's agility and flexibility, we have innovated and enhanced its digital delivery to ensure the pandemic won't compromise its impact and integrity.
We assisted school leadership and management develop plans to ensure their schools could safely re-open and provided much-needed wellness support to educators and principals.
In response to the South African Government and the Department of Education's call to mask all learners, in 2020 we embarked on an ambitious mask challenge (#MRPFMaskChallenge) to donate reusable masks to all learners part of our programme. As of February 2021, a total of 78,000 masks have been donated to all Mr Price Foundation supported schools in under-served communities in Tongaat, Hammarsdale, QwaQwa, Soweto and Mitchell's Plain. This was made possible through generous donations from the Mr Price Group, its associates, suppliers and customers the general public, as well as Gemelli Clothing and ExpandASign.
Despite the uncertain year, the programme has still been a success in its clusters around the country, as shared by Mr Chabalala, Free State Project Coordinator of the Mr Price Foundation Schools Programme.
We are quietly confident that these 'pivots' made in the education space to adjust to the 'new-normal' will stand the schools and us in good stead for the season ahead. The Mr Price Foundation wishes all learners and educators well for the new academic year, as it hopes to continue the successful implementation of its schools programme and endeavours to grow its whole school model in the near future.
Find out more about our schools programme here.