The Ride for MRP Foundation is impactful thanks to support from partners, businesses and its diverse peloton.
A dedicated and determined group of cyclists are mentally and physically preparing to cycle 606 km to break the cycle of poverty and inequality in the tenth edition of the Ride for MRP Foundation, taking place on Dec 1-2.
The challenging two-day ride from Secunda to Durban, brings together individuals and businesses to raise funds and awareness for MRP Foundation to empower young people through education and skills development. In 2019 alone 5,971 youth participated in skills development and 96,495 learners were impacted through the Schools programme. The annual 606km gruelling event, is a 2 day stage ride aiming to raise much-needed funds for MRP Foundation. The 2018 edition saw a 72-strong peloton raising the target of R2 million.
This year's Ride will feature a diverse peloton of men and women, ranging from ordinary South Africans and school children, to business executives and sports stars, all riding with a common purpose.South African triathlete Mhlengi Gwala will be riding for the third consecutive year. South African Rugby Legends have once again pledged their support with Jeremy Thompson, Wayne Fyvie, Joel Stransky and Warren Brosnihan taking on the challenge. Warren is riding in place of an injured John Smit.
Stage 1 of the Ride, is from the Graceland Hotel in Secunda (Mpumalanga) to The Royal Hotel in Ladysmith (KZN) is 346km. The peloton will travel across three provinces, tackling the daunting Majuba Pass between Volksrust and Newcastle. Stage 2 of the Ride is 260km, departing Ladysmith at 04h00 on December 2, arriving at CMH Nissan Durban 115 Monty Naicker Road, at 16h00.
The public can support the riders in their mission to raise funds and awareness for the Foundation through EFT, Paygate and Zapper donations.
A big thank you to our partners including Absa, CMH Nissan Durban, SPAR, Maxed, Expand-a-Sign, City Logistics, Zapper, Trader Plus, Corruseal, KTM, Westville Cycle Club, Giant, Cyclesphere, SA Rugby Legends and Hirt and Carter all contribute towards the success of the annual event.
Ride Route from Secunda to Durban – 606km
Sunday, December 1 – Secunda to Ladysmith –  346km
04h30 – Depart Graceland Hotel: Turn right onto Secunda Road, right onto the R546. Turn left onto the R547.
09h00 – Arrive in Standerton in Krogh Street, right into Charl Cilliers Street and left into Prinses Street. Breakfast at the SPAR in Prinses Street.
09h30 – Depart Standerton at 09H30 heading for Volksrust.
12h30 – Arrive in Volksrust. Lunch at Laerskool Pioneer.
13h00 – Depart Volksrust and head for Ladysmith.
18h00 – Arrive in Ladysmith at the Royal Hotel in Murchison Street.
Monday, December 2 – Ladysmith to CMH Nissan – Durban 260km
04h00 – Depart Royal Hotel Ladysmith from Murchison Street, for Colenso and Estcourt.
08h00 – Arrive in Mooi River. Breakfast at the Mooi River SPAR.
08h30 – Depart Mooi River for Nottingham Road, Midmar, Howick and Hilton.
10h30 – Tea break at SPAR at the Quarry in Hilton. Escort by the Pmb Police from the SPAR at the Quarry in Old Howick Road and through Pmb to the top of Polly Shorts.
12h00 – Polly Shorts. Lunch.
12h30 – Depart Polly Shorts to Pot & Kettle.
14h00 – Bothas Hill. Metro Police escort from Pot & Kettle, along Old Main Road towards M13. Continue on King Cetshwayo (Jan Smuts) Highway, left along N3 towards Tollgate. Continue upon Johannes Nkosi (Alice) Street, onto KE Masinga (Old Fort) Road, right onto Masabalala Yengwa (NMR) Avenue, onto Walnut Road, right onto Monty Naicker (Pine) Street to finish at CMH Nissan Durban.
15h00 / 16h00 – Arrive at CMH Nissan Durban 115 Monty Naicker Road.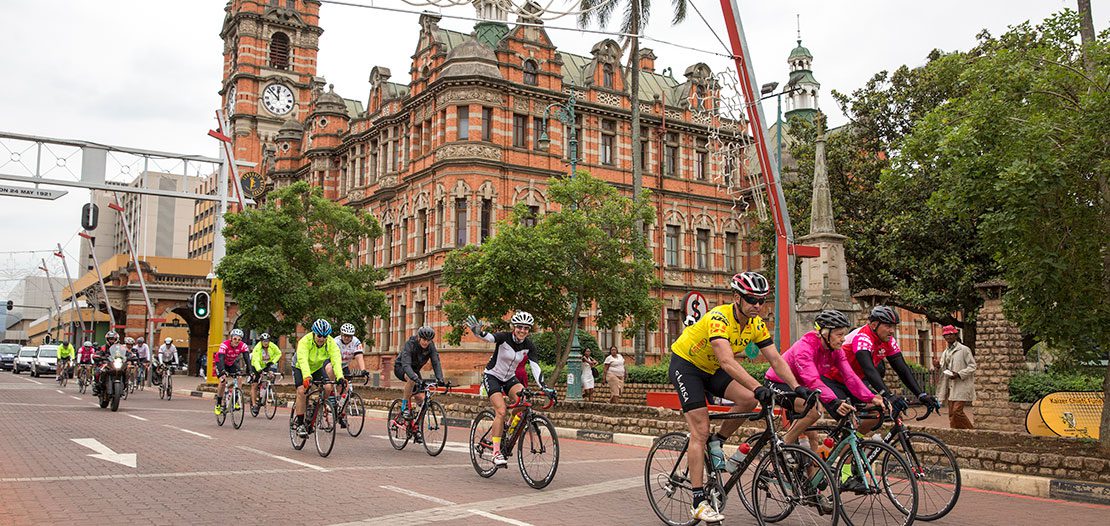 ---
A big thank you to the Ride's Partners
SPAR
The SPAR Group provides significant value to the Ride. The cyclists and support crew are kept well fed and hydrated thanks to SPAR's delicious meals, with food breaks stopping off at SPAR stores. To help raise further awareness, Spin-to-win Activations are hosted at SPAR stores and Distribution Centres around the country and SPAR has multiple riders cycling.
CMH Nissan Durban
Over the years, CMH Nissan Durban has provided incredible practical support for the Ride including: hosting and assisting with the launch and finish line function at their Durban City Centre dealership; providing 9 back-up vehicles and generously donating a Nissan Micra Active as a fundraising prize in 2019.
ABSA
Absa remains a loyal partner to the Ride, proudly supporting the event and adding significant value to the riders. Absa's Shared Growth strategy, which focuses on making a positive impact on society, includes a key pillar in support of Education and Skills Development.