LEARNERS at Vukuziphathe Primary School in Hammarsdale, KwaZulu-Natal, sang and danced with delight at the sight of two new growing tunnels being set up at their school on 14 October. 
Two of Mr Price Foundation's youth development programmes – the HandPicked agripreneurship programme and the EduRise schools programme – collaborated to plant the seeds of opportunity at the Hammarsdale school, near Mr Price Group's main distribution centre.  
The towers were kitted out with vertical towers of bright green African Grower growing pods.
"This is a pilot project with great potential," said Karen Wells, head of Mr Price Foundation.  
"These tunnels can be integrated into the curriculum, to create a 'living lab' for educators across subjects like natural science, mathematics and life skills. Produce grown in the HandPicked tunnels can also be of nutritional benefit to the learners or as means for the school to generate revenue," said Karen.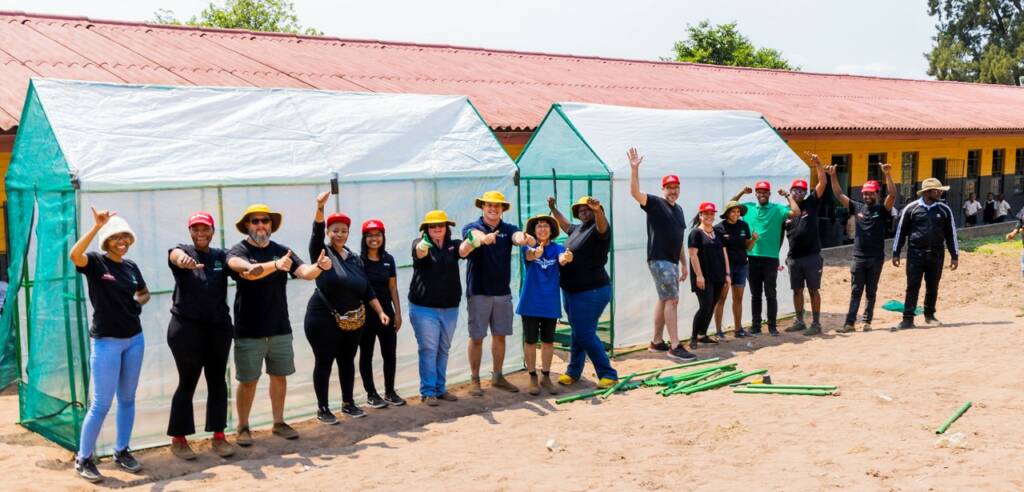 The installation of the tunnels was a spirited team-building exercise between teams from Mr Price Foundation and Mr Price Group Sustainability, with both teams enthusiastic to finish their tunnel first. 
"We are exploring how HandPicked can link into EduRise, marrying the two and seeing all the benefits that we can possibly bring to children," said Louis-Gillis van Rensburg of Fresh Life Produce, HandPicked's implementation partner. 
HandPicked was launched in late 2020 with a green vision to generate employment opportunities through agricultural skills development. It addresses four of the UN Sustainable Development Goals of no poverty, zero hunger, good health and well-being, and decent work and economic growth.  
HandPicked equips youth from agricultural tertiary institutions, as well as community growers, with practical agricultural and agribusiness skills, empowering them to become agripreneurs and take their future into their own hands. 
HandPicked is cultivating green shoots of change with the support of its partners: Mr Price Group, Fresh Life Produce, CHEP, Veldskoen, Catalyx and African Grower. 
Photos: © Mr Price Foundation / Pierre Tostee
Words: Farzanah Asmal