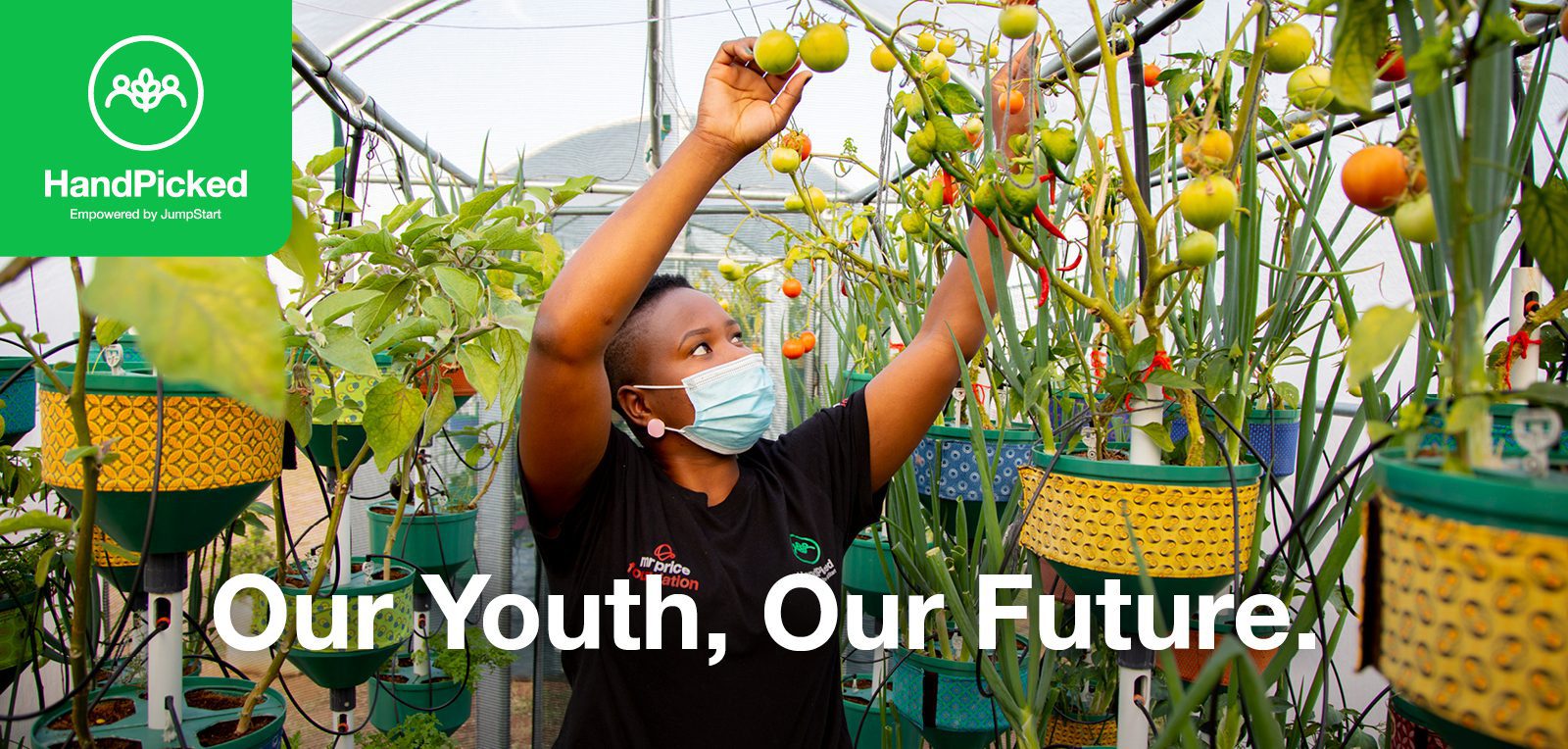 WE BELIEVE that when we invest in our youth, we invest in our future. Creating and unlocking opportunities for youth will go a long way to ensuring we create trajectories for change, growth and hope for South Africa – not just for the economy, but for the general welfare of our people.
In order to see real change, we need to drastically lower the number of unemployed youth –  which currently sits at over 9 million (2022).
Our HandPicked programme attempts to do just that, while making headwind toward improving food security and production. As with all programmes of Mr Price Foundation, the ultimate goal of HandPicked is to upskill and uplift youth.  The pilot has provided key insights and learnings which have been incorporated into plans to grow the programme to upskill agripreneurs and networks of home-growers.
HandPicked rounds off Mr Price Foundation's outreach programmes as it considers the need for not only urban initiatives, but those within rural/township areas. 
OUR GROWTH PLANS
We are excited to say that we have consolidated this rural/township outreach by joining two hubs (Mr Price Group distribution centre and Amagalelo) into one main hub positioned directly inside the community. This allows for easy access and an increase in production capacity. 
By the end of our financial year 2023, we will have established an additional four hubs which will include:
The upskilling of four agripreneurs per hub (enterprise development)

The upskilling of 10 home-growers per hub (food nutrition/food security) 
Our aim is for each individual in the programme to gain both technical and business skills, as well as extensive practical experience. The business skills will also be focused on the agripreneurs over an extended period of 12 months.
BENEFITS OF THE PROGRAMME
HandPicked is a skills development course for agriculturally-minded candidates. It equips communities and youth with life skills, business skills and modern growing techniques. Growers learn to produce crops hydroponically, in vertical towers, using coconut coir as a growing medium. 
Producing food in this way uses less water and less space than traditional methods of growing in soil; and maximises scarce resources in urban and rural settings. 
After training, growers are equipped to become self-sufficient food producers or agribusiness owners. They shift from consumers to producers – and stimulate local economies and community food production.
OUR FUTURE GROWTH PLANS
We have finetuned the input and primary production phase of the programme and the food hubs. Going forward, we will investigatevalue-adding, such as processing food by-products that can be sold through different retail channels or retail platforms, such as the community centres, households and markets.
"HandPicked is shaping a sustainable generation of agripreneurs and home-growers."
Help fund our HandPicked community of growers today and claim a win for food security.