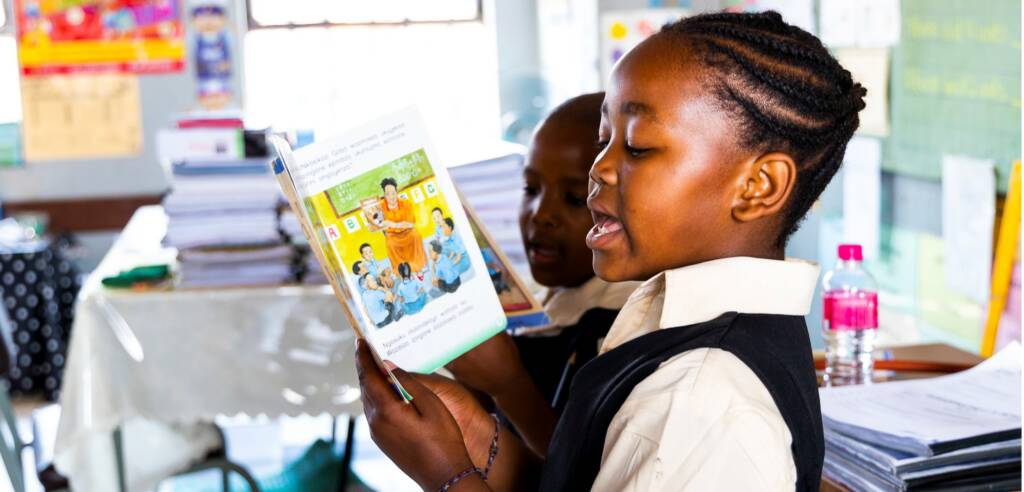 DO YOU KNOW that simply by reading this blog, you're one of the lucky ones? In South Africa, 81% of Grade 4 learners can't read for meaning – and 92% are affected by shortages of reading resources*. In 2021, More than 17 000 out of 23 000 schools had no library**.  
"Our children deserve so much better! Literacy shouldn't come down to luck. It's a human right and the foundation of all learning," said Karen Wells, Head of Mr Price Foundation. 
Celebrate National Book Week in the first week of September – and International Literacy Day on 8 September – with Mr Price Foundation, by clicking here to send children's books to under-resourced schools.  
For as little as R30.00, you can donate a book to set up a learner for life! 
Our goal is to equip schools with a set of 500 books from Vula Bula, for Foundation Phase learners. Each set costs R22 000 – so the more you give, the more schools we can support! Vula Bula is the first graded reading programme in African languages where progression is based on the phonics of each language. It makes learning to read easy! 
Your gift will open the magical world of books … spark creativity … and unlock dignity and opportunity for children.   
Pain Mashingaidze, head of Mr Price Foundation's EduRise programme, encourages parents to regularly engage their children in early literacy activities from a young age, to ensure they enter primary school with the necessary literacy skills in place.   
"We encourage parents to frequently engage their children in the nine early literacy activities before children attend primary school. These activities include reading books, telling stories, talking with children, singing songs, playing with alphabet toys, talking about things children have done, playing word games, writing and reading aloud."  
This lays the foundation for a lifetime of learning. "On average, students who perform early literacy tasks "very well" when they enter primary school are able to read better in Grade 4 than students who can do the tasks "moderately well" when they first enter school," said Pain, citing research from the Progress in International Reading Literacy Study (PIRLS) 2021, released on 16 May 2023. 
Yet a mere 5% of parents read to their children, and only 14% of South Africans are active book readers.
"Only 38% of South African students were engaged by their parents in early literacy activities before primary school. Those who were 'often' engaged by their parents before primary school have the highest average reading achievement, while those whose parents 'sometimes' engaged them was noticeably lower," said Pain.   
So please send your gift today, and open the wonderful world of literacy.  Thank you!
Sources:
*Progress in International Reading Literacy Study (PIRLS) 2021, released on 16 May 2023.
** National Education Infrastructure Management System (NEIMS) Standard Report 2021.