Six years of involvement has empowered KwaDukuza principals and educators to provide quality education to their learners
Six fruitful years of partnership between five KwaDukuza Primary Schools and MRP Foundation was joyfully celebrated at the Salt Rock Country Club in Umhlali on November 21, with MRP Foundation bidding farewell to the schools that have now become inspired places of learning.
The Foundation's holistic schools programme was introduced into the KwaDukuza Schools (Aldinville Senior Primary School, Kearsney Primary School, Nyakana Combined Primary School, Zilungisele Primary School and St Christophers Primary School) in 2011. Although initially challenging, with the support of principals and educators, the Schools Programme successfully cultivated educational environments where children can learn effectively, supported by confident teachers in schools that strive for excellence. The schools regularly outperformed other schools in the province, district and nationally based on average performance.
By focusing on four key areas — parent and community involvement; school management and leadership and learner and educator development  — the programme developed a scalable model to help dedicated principals and educators deliver quality education in a challenging socio-economic environment. Principals were continually mentored and educators received classroom support for both professional skills and content knowledge for critical learning areas such as Numeracy, Literacy, English First Additional language, Maths, Natural Science, Creative Art and Physical Education.
Fundamental to the programme is sustainability and empowering schools leaders, educators and coaches to take ownership over the different elements of the programme. To prepare the schools for eventual exit, MRP Foundation's involvement gradually decreased over the past three years to ensure sustainability of the programme.
For Karen Wells, Head of MRP Foundation, saying farewell was a bittersweet moment:
"We understand that to bring about lasting change, we have to work within the education system and in partnership with all key role-players. It's also just as crucial to develop sustainable practices that don't create a sense of dependency; the programme's success is based on its school leadership and educators being empowered to continue implementing the programme after we exit.

We have learnt so much from the courageous KwaDukuza schools and have complete faith that they will continue to provide quality education to learners. As we expand into our new cluster areas of Hammarsdale and Tongaat we will carry through these lessons with us. Access to quality education is a national priority and we are working towards scaling our programme to reach 200 schools."
Sharing their memories and learnings from the programme were principals and educators from the five schools; Deputy Chief Education Specialist from the Department of Education (Ilembe District); MRP Foundation staff and the Foundation's Implementation Partners.
Mr Khumalo, former school Principal and now an MRP Foundation Mentor, "The programme reignited the love of teaching and the teaching profession. It taught teachers how to teach effectively, manage their classrooms and to live the vision of our schools. It restored the dignity of the teachers — learners respect them because they now know the content." He encouraged the KwaDukuza leaders to, "sustain what we have acquired and implement what we have learnt."
For Mr TS Khumalo, Principal of Aldinville Primary School, shared his memories of the partnership. "We would be nowhere without this organisation. Our school is like a happy island in a poor sea. I have been taught how to budget therefore I can sustain my school financially. We have moved from the arena of ignorance to the arena of intelligence. The song has ended but the melody will linger. We're going to continue from where we left off."
Mr Sihle Makhanya, Deputy Chief Education Specialist for Ilembe District, Department of Education, showed his support for the programme by attending the event and shared his thoughts on the programme.
"The intervention has assisted in terms of skills and knowledge development especially in critical subjects like Maths and English and lately in Arts and Culture. The integration of technology into subjects such as mathematics has improved educators' confidence. The confidence of teachers had translated into confidence of the learners and that has been a highlight of the programme for me. I see the programme being sustainable and scalable and applicable to a larger number of schools."
MRP Foundation Schools Programme wishes the KwaDukuza Schools all the success in the world! Together we can break the cycle of poverty and inequality.
Sitted from left to right: Zanele Mhlongo(Faciliatator – Creative Arts), Nozipho Ncengwa ( Educator -Kearsney Primary), Sthembile Shabalala (Principal- Zilungisele Primary),Nonhlanhla Msomi (HOD- Zilungisele Primary), Jabu Mjojo(HOD – Aldinville Primary), Lorraine Kaunda (HOD- St Christopher's Primary), Zonke Mbonambi ( Educator- St Christopher's Primary), Bongiwe Tshwane (Head of MRP Foundation Schools Programme) , Karen Wells (Head of MRP Foundation ), Thandeka Mdladla ( Educator – Zilungisele Primary), Nombuso Mthiyane (School Facilitator-JET Education Services) , Brenda Phahla (Educator – Kearsney Primary)
Standing from left to right: Admire Makhethero (Facilitator-JET Education Services), Dumisani Buthelezi ( Educator – Aldinville Primary), Thulani Khumalo (Principal – Aldinville Primary), Sihle Makhanya  (Deputy Chief Education Specialist – KZN Dept of Education – ILembe District),Jugdeep Deodat ( Principal – Kearsney Primary), Craig Gibbs (Specialist Manager : School Management and Governance -Jet Education Services), Skhumbuzo Khumalo (Mentor- JET Education Services), Pain Mashingaidze (Programme Coordinator – MRP Foundation Schools Programme), Dhevachellan Muruges (HOD- St Christophers Primary), Peter Court ( Implementing Partner – Creative Arts)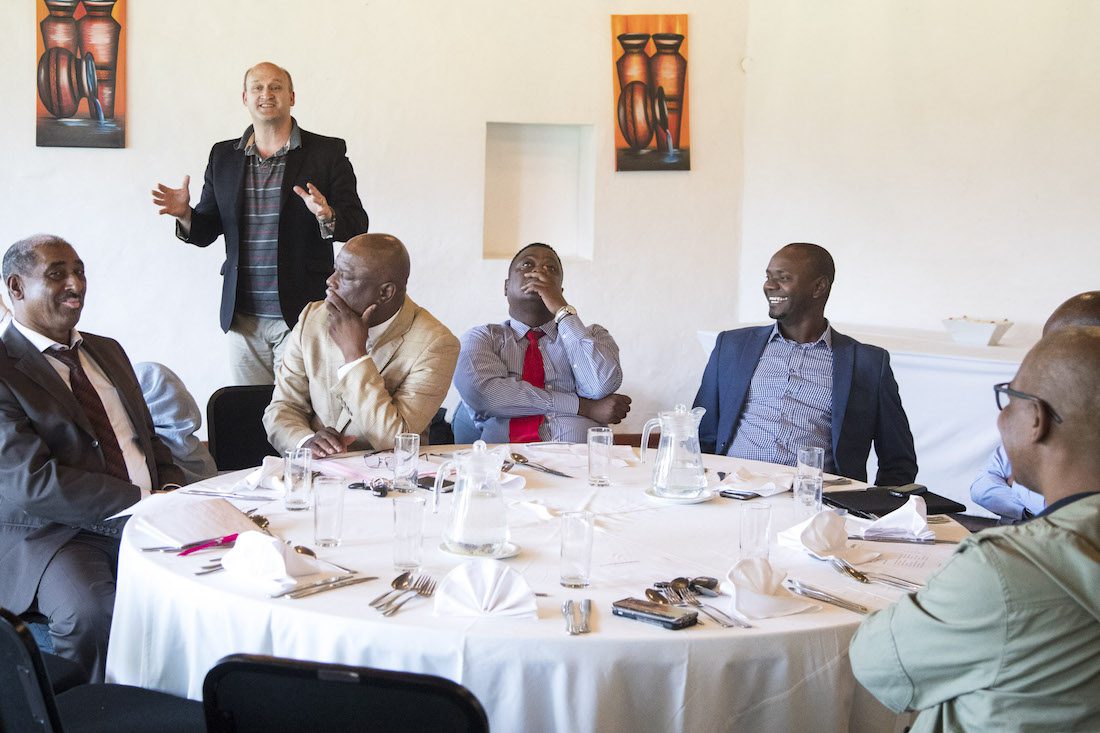 Craig Gibbs, Implementation Partner – Schools Leadership and Educator Development (Academics)
"These schools have dedicated teachers, enthusiastic learners and parents who do what they can to help regardless of their circumstances. MRP Foundation have provided the opportunity for teachers, SMT's and principals to blossom and fulfill the potential that was always there. In terms of teacher development, in the first year we did a baseline assessment for content knowledge and at the end of the programme we noted a significant improvement. Educators feel empowered, confident and learners are respecting them more. There's a can-do positive energy. This was a joyful experience and you can all be very proud of what has been accomplished. You made me believe that education in this country can be changed."
Peter Court, Implementation Partner (Creative Arts)
"One of my highlights has been the educator development and seeing a level of confidence that has come about. We developed curriculum books from Grade R to Grade 9 and I have seen the evidence of these books in every school. It has been so uplifting to see how educators are working together and looking at each other's books and how creative arts is blending into other subjects. Teachers are drawing on the board! The student development has also been amazing. Their joy and confidence has been amazing to see. We're not just developing pupils, we are developing human beings with compassion and empathy and understanding for one another. It's been a pleasure and an honour to develop this creative arts project with you. It's not the end of something, it's the start of something new – the next level of development."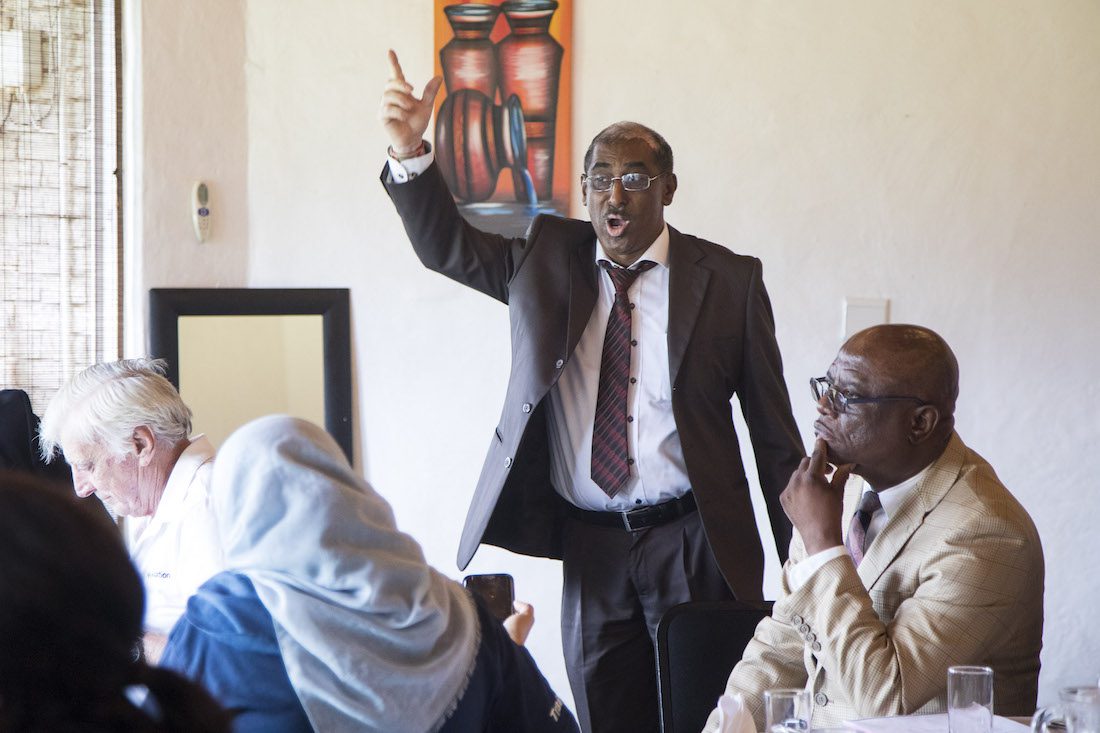 Mr Jugdeep Deodat, Kearsney Primary School, Principal
"The programme has assumed a life of its own in the schools and all the programmes will continue. The skills, values and attitudes imparted over the six years will certainly be passed over from generations of learners to the next. I want to sincerely thank MRP Foundation for the magnanimous social investment in all our schools: when you make an investment you expect a return and there is a never-ending return."
Mrs Lorraine Kaunda, HOD Senior Phase, St Christophers
"It has been a very long walk where we stumbled, failed at times, got up and persisted; with only one vision — to better ourselves in our places of work. We have met wonderful people who have motivated us and given us a push in the right direction, we've learnt valuable skills and realised we can indeed become centres of excellence. We are promising to embrace and sustain this programme as much as we can to see our learners become lifelong benefactors of this programme."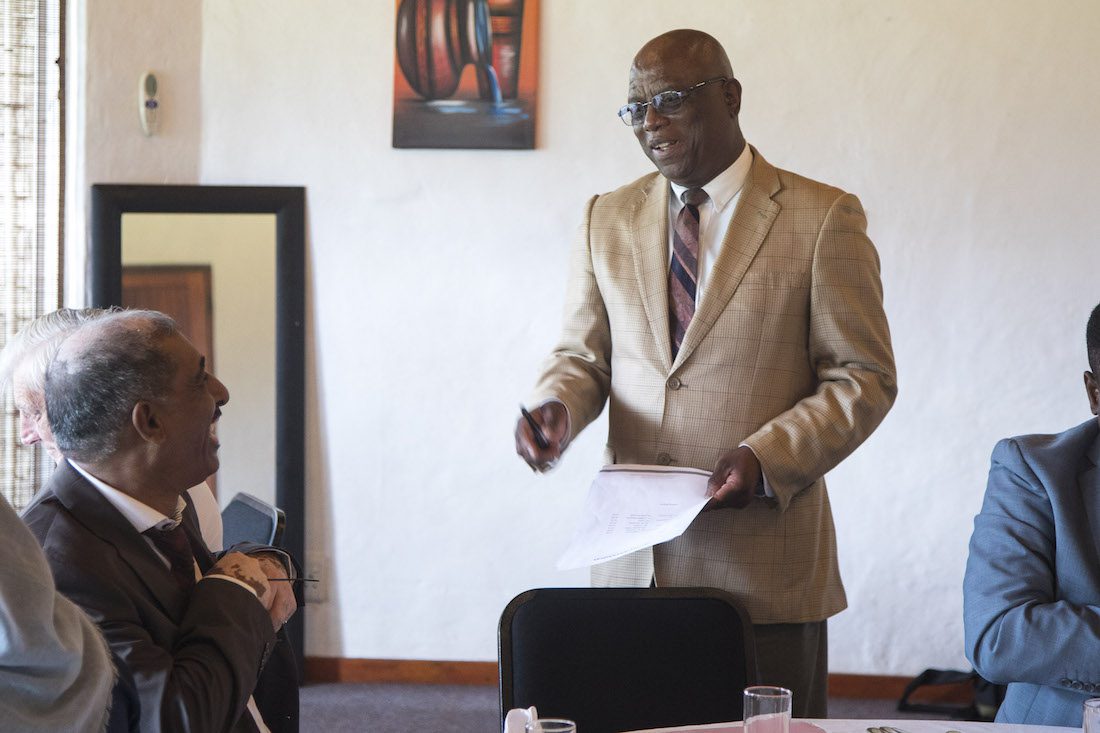 Mr Khumalo, Former Principal of Zilungisele Primary School and now MRP Foundation Mentor
"We were struggling in how to incorporate life skills physical education into our lessons. But it became easy. Learners started enjoying coming to school, and therefore we could address absenteeism and late coming. The programme reignited the love of teaching and the teaching profession. It taught them how to teach effectively, manage their classrooms and how to live the vision of our schools. It restored the dignity of the teachers — learners respect them because they now know the content. Let's sustain what we have acquired and implement what we have learnt. I encourage you to share your expertise with educators from the new clusters."
Michael Flockart, Implementation Partner (Physical Education)
"It has been very encouraging to see how not only the learners have benefited by this intervention but also how the educators have embraced the concept and are implementing the knowledge that they have gained. Most educators have not had any form of training in physical education or activities as set out in the Department CAPS document. Educators are now able to understand and implement according to the CAPS document. It has also been noted that on Physical Activity days there is a drop in absenteeism and that learners' behaviour and concentration in class improved remarkably. This further reinforces the importance of a rigid coherent physical education structure."