Fashion designer and MRP Foundation Ambassador, Anisa Mpungwe, teaches Jump Start pre-production students to embrace their African design heritage and how to succeed in the workplace.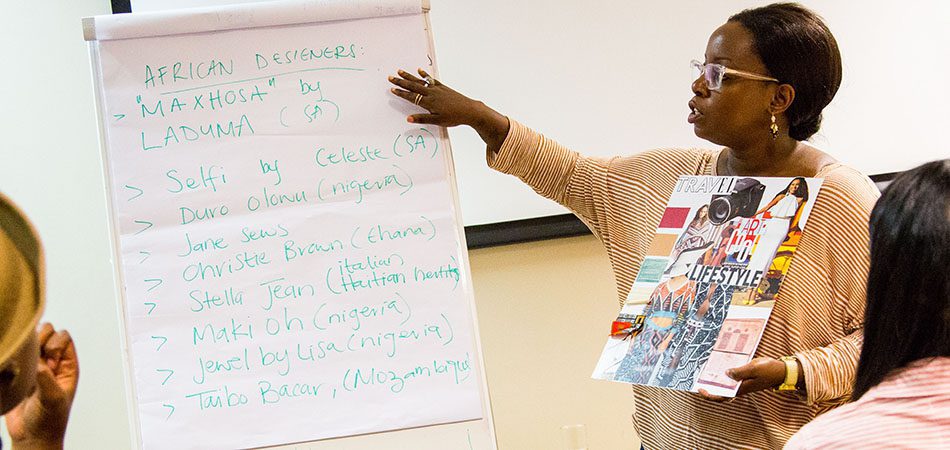 Proudly African designer and MRP Foundation Ambassador, Anisa Mpungwe, recently spent another fun and engaging week mentoring the Jump Start pre-production students to ensure that they can become more knowledgeable, passionate and ultimately more employable.
This is the second year the stylish designer and founder of popular womenswear design house, Loin Cloth & Ashes, has been hands-on with the Jump Start Pre-production Manufacturing course. The award-winning designer brings a wealth of knowledge to the ten-month intensive practical and theoretical course that aims to bridges the gap between tertiary education and the manufacturing industry to directly address South Africa's youth unemployment challenge.
The Tanzanian born designer thoroughly enjoyed being a part of the young students' learning journey saying:
"It's important to always look at potential future leaders and the MRP Foundation has made this platform available for any students who want to further their knowledge in the manufacturing, textile and footwear industry. The questions they ask are always interesting and it's fulfilling to know that in a small way you can mentor eager learners who don't have access to the fashion industry just yet."
Anisa's journey with MRP began back in 2008 when she was announced the winner of the Elle Rising Star Design Award, an annual competition in association with MRP, where she reaffirmed herself as a force within the local fashion industry.
During her week with the MRP Foundation Anisa enlightened the students about Africa's wealth of established designers, after which they had to present a collection in a team-based on their findings. The twenty-five students loved learning from Anisa and absorbed as much workplace knowledge as they could, learning skills like professional presentation techniques and how to work effectively in groups, both vital to building careers.
Twenty-five year-old Jessica Bennie thoroughly enjoyed learning about how to interact with each other on a professional level. The budding designer hopes to use the knowledge acquired through the pre-production course to start her career saying: "My dream is to start my own brand but I'd also love to lecture in fashion as it's such an exciting art that helps you emotionally express yourself.
Above all, Anisa encouraged the students to think smarter when it came to their career dreams, imparting essential advice that will no doubt help them gain a foothold in the local manufacturing, textile and footwear industry.
"Don't be so hard on yourself. As long as there is a clear end goal, the road there can always alter if it needs to. Networking and maintaining relationships within the industry and people in the know is a good tool to use to for this process."