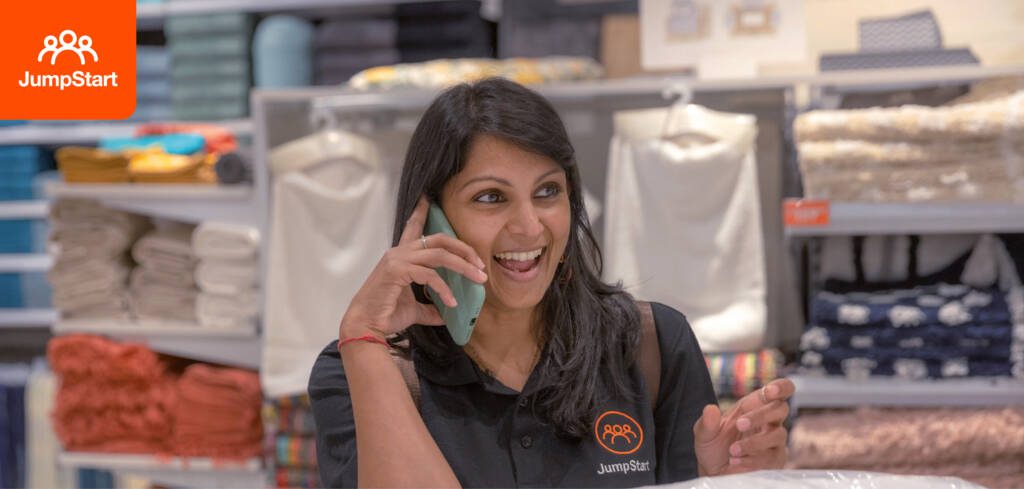 YOU'VE SHOWN UP for yourself and committed to the JumpStart journey. Your skills development and work experience is behind you – and your first job interview is lined up! Follow these top tips to help prepare for your interview and stand out in the recruitment process. 
​
Before the interview
​Job interviews are an opportunity to showcase your knowledge, skills and present yourself favourably to your potential employer. Research the organisation and job you are applying for. This will help you understand the job position and with answering interview questions.​
Research possible interview questions, both personal questions and 

ones that apply specifically to the role. Prepare and practice your 

answers. Don't memorise answers but rather try to feel comfortable 

talking about yourself in a professional manner. 

​

Put your best foot forward by dressing and grooming appropriately. 

Ensure you look neat and professional. First impressions count – some 

research suggests that it takes just seven seconds of meeting for 

someone to form an impression of you. 

​

Plan your travel route to the interview or test the online meeting 

platform for a remote interview. There are a number of online platforms 

that may be used for interviews, including Skype, Teams and Google 

Meet. Check your platform is working ahead of time. Arriving or logging 

in a few minutes early on the day of the interview may help relieve 

stress.
In-store interviews​
A career in retail is customer-centric so it's important to show the interviewer that you have great communication skills. Apart from what you say, your body language also speaks volumes. ​
Speak loudly and clearly and present a genuine smile.

​

Hold a good posture, use appropriate hand gestures and hold your 

head up high.
Remote interviews​
Remote interviews, facilitated by either telephone or online platforms, are fast becoming an additional method for job interviews. Understand the do's and don'ts of a remote interview to ensure you make the best impression:​
During any communication with a potential employer, it's vital to speak 

professionally. Phone calls are frequently used as a mini-interview 

before the big interview that test people and communication skills.

​

If you're expecting a call, make sure your phone is always on and 

charged. If you miss a call, politely follow up. 

Make sure your laptop or phone is charged and ready for an online 

interview. It's also important to check the load shedding schedule, test 

the connection and online meeting site, locate a quiet place in your 

house that is free from distractions and be camera ready.

*If you have completed a 

JumpStart programme and your number has changed, please contact 

the JumpStart Regional Team to let them know.

​
​
Good luck with your interview! Remember to be yourself throughout the recruitment process! No one  does you better than you!
​
​