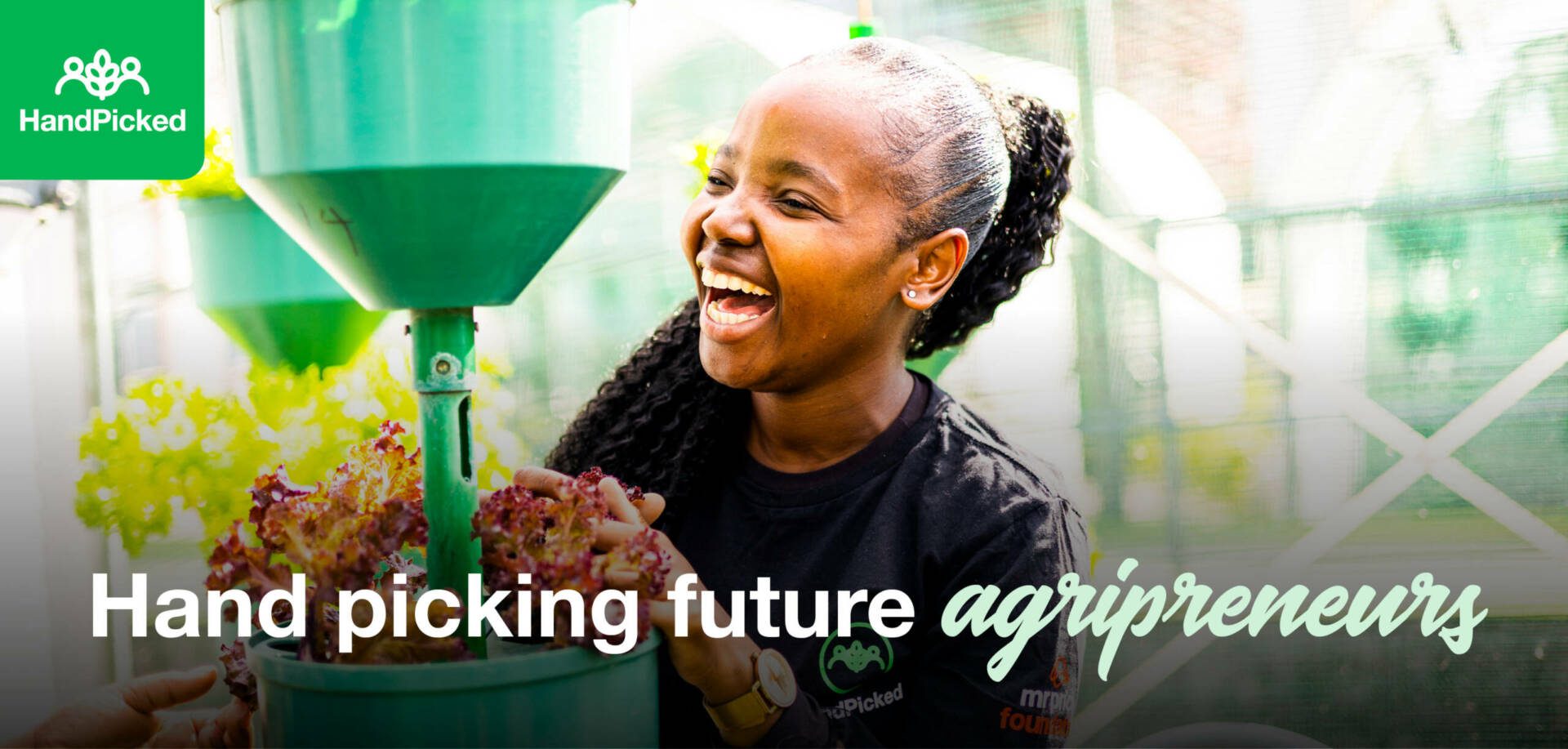 At Mr Price Foundation, we are not here to change today. We are here to change tomorrow. And Mandisa Matenjwa is one of several young farmers whose life has taken an exciting new direction after completing our HandPicked programme.
Originally from Empangeni, this up-and-coming young businesswoman holds a Bachelor of Science, majoring in crop production and management from the University of the Free State. After graduating in 2020, Mandisa was selected for the 12-month HandPicked programme and was then placed as an intern at the HandPicked growing hub in Durban. 
Today, the 22-year-old is the manager and owner of KaMathenjwa's Agribusiness, producing green pepper, frilly and butter lettuce, baby spinach, basil, chillies, mint, tomatoes, parsley, spring onion and thyme.
"I have learned so much from HandPicked. My journey has been filled with challenges that served as a ladder to becoming a business owner. I am deeply appreciative of the help I received to register my own company, giving me the confidence and happiness to watch the growth of a seed to a crop," says Mandisa.
Mandisa gained valuable practical skills as a HandPicked intern, where she learnt about planting, irrigating and researching pests and diseases. "My farming skills have really improved. I only had theoretical knowledge from university, learning from pictures. But when we got to HandPicked, we could find out for ourselves how plants behave, how to harvest and package, as well as business skills." 
She points out, "Farming is not only about planting and selling. You have to consider market demands and margins."
Mentored by Thandeka Zulu, CEO of Niya Consulting, Mandisa believes that the experience she gained from HandPicked will equip her to be a successful agribusiness owner. "My passion is farming and with the experience from Mr Price Foundation, I am more than fit now to run my own business."
Thandeka, who has a passion for emerging businesses, has mentored Mandisa in setting up her 0.2ha growing hub at Mr Price Group's support centre in Durban. Crops are planned according to the demand of their on-site market, which includes a bustling canteen and market days.  "We want our agripreneurs to be self-sufficient, creating economic opportunities through profitable growing hubs."
In paying it forward, Mandisa is now mentoring new interns using the knowledge and experience she gained in the field. "Through HandPicked, I can compile reports, make necessary deals, negotiate with suppliers and most importantly, communicate with people. My mentor believed in me and boosted my confidence, giving me the platform to shine."
Mandisa is creating her own story of success, thanks to the grounding she received from Mr Price Foundation's HandPicked programme.  
HandPicked marks the first time that Mr Price Foundation has invested in skills training in the agricultural sector. Funded primarily by Mr Price Foundation, the programme has grown with CHEP and Veldskoen as partners. 
HandPicked is implemented by Freshlife Produce, using vertical African Grower growing pods, and is supported by Niya Consulting.