SPRING 2023 IS OFFICIALLY HERE – and our HandPicked programme is bursting with growth potential! At Mr Price Foundation, we are constantly testing new opportunities for growth, with the ultimate goal of connecting unemployed youth to sustainable income opportunities. 
In the 2023 financial year, HandPicked empowered 27 home growers with technical growing skills, established three agribusinesses, and launched six agrihubs, including HandPicked CityFarms Kenilworth Centre. The first urban retail rooftop farm in the Western Cape, this rooftop agrihub will annually offer 24 unemployed youth a month-long internship to sharpen their agribusiness and farming skills.
Spring is a time of growth – and we're on a mission to grow to 50 000 Facebook followers. We need YOU to make it happen! Help us grow by following us on Facebook. Like and share our posts with your friends and family. Together, we can create a network of hope and transformation!  
Akhona Gxuluwe is the 32-year-old farm manager running this exciting rooftop farm. With a B.Tech in Agricultural Management, Akhona grows vegetables in a hydroponic farming system and trains two interns from the nearby Langa community each month. She teaches farm record-keeping, seedling propagation and natural pest and disease control. Post-training, the interns receive a mini household growing tunnel, empowering them to join a community of home growers and promoting household income and food security. 
"These interns are not employed. We are giving them a skill that they can use to become agripreneurs. Everything they grow, they sell. Either we buy back their produce, or they sell to the local community. They can also sell their chillies to IKhaya Le Langa for chilli sauce production. Their attitude is 'if I don't have a job, this is something else I can do with my life'. I enjoy the fact that I am changing lives," Akhona says. 
The agrihub sells its crop to a restaurant in Kenilworth Centre, and once a month, in high production seasons, they open a mall kiosk to sell to the public. "We also donate the crops to three organisations: a home for pregnant and homeless women in Claremont, an orphanage in Athlone, and IKhaya Le Langa in Langa." 
Central to the HandPicked model is African Grower technology. This sustainable technology uses space-saving vertical stacks of growing pods, with water-wise coconut coir as the growing medium.  "Each tower has four pots; and you can grow four plants per pot. We can grow up to 173 plants/m² which is much more intensive than farming in the soil," says this mother of two from Queenstown.   
Akhona says she loves this hydroponic model of farming. "I have learnt so much. I feel like I am doing my masters degree without being at university! You don't need a lot of land. You can farm wherever you are, in a town or village. And I don't have to give up my lipstick or the way that I dress. I can still be me and the woman I am even if I am in farming."   
Akhona encourages other young people to consider farming as a means to improve food security, at national and household level. "Agriculture is for everyone, whether you are a man or a woman. It is a skill of a lifetime."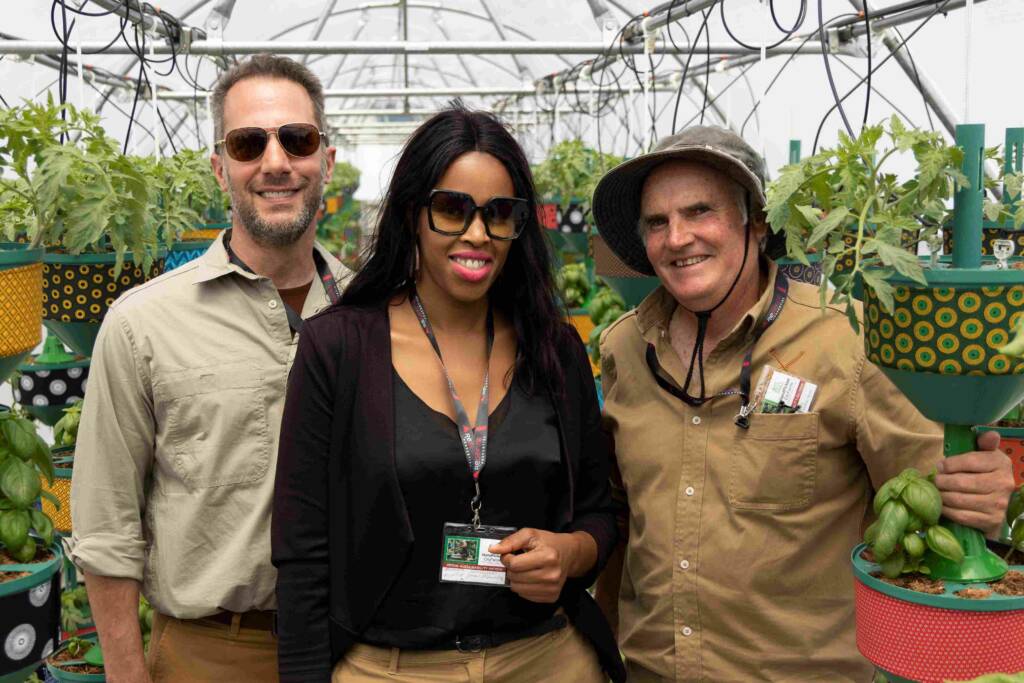 Akhona with HandPicked partners Kurt Ackermann (left), CEO of SA Urban Food & Farming Trust, and Ian Summer (right), SA Urban Food & Farming Trust farm manager.
HandPicked CityFarms Kenilworth Centre would not exist without the support of our visionary partners. SA Urban Food & Farming Trust, Fresh Life Produce,  Redefine Properties and the Black City Farm Project/IKhaya Le Langa;  with additional invaluable support from CHEP, Veldskoen and Mr Price Group.  
We thank Akhona and all our partners for their role in educating and inspiring growers – and are excited to see many crops of sustainable agribusinesses sprouting out of HandPicked in future. 
If you would like to help HandPicked grow, please make your donation here. Thank you!