Sixteen Professional Retail graduates have started their retail career on the right foot.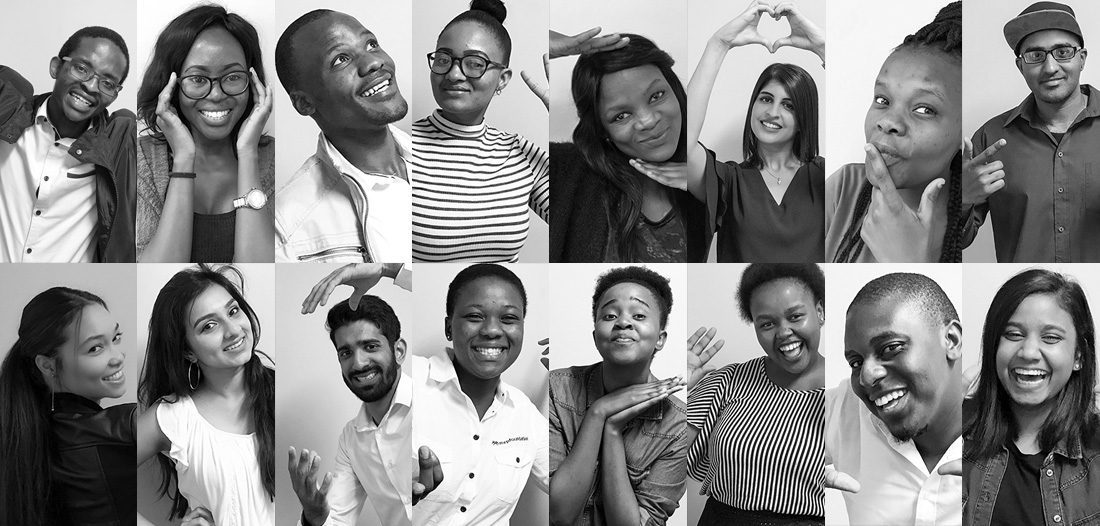 What does it take to work in the dynamic and fast-paced world of retail? These sixteen individuals, who recently graduated from the inaugural Professional Retail Programme in Durban on November 23, all exuded workplace-ready qualities that helped them secure employment at the end of the ten-month programme. Designed by industry, for industry, the dynamic internship assists graduates successfully progress from tertiary education and into the world of work and gives them the opportunity to learn professional retail skills for buying, planning, operations management development and store management. We invite you to meet the future faces of retail.
Enhle Dlamini
Trainee Garment Technologist
"I aspire to be a valuable asset in the retail industry because of my drive, experience and passion towards evolving fashion trends."
Twenty-four-year-old Enhle Dlamini holds a Fashion Design Diploma from the Lindiwe Khuzwayo Fashion Academy. She also successfully completed the MRP Foundation's Pre-Production Course in 2016, where she focused on footwear manufacturing.
---
Xolile Gumede
Allocator
"I aspire to learn as much as I can and grow in all aspects of my career."
Pietermaritzburg born Xolile studied a Bachelor of Commerce Degree in Marketing Management at the University of KwaZulu-Natal. She loves reading books that help shape her to become a better person and hopes to absorb as much information as she can with the aim of opening her own marketing agency in the future.
---
Nadine Moonsamy
Trainee Location Planner
"Confident, vibrant and creative are just a few ways to describe my personality."
Twenty-four-year-old Nadine believes it's important to work hard, stay humble and be kind. Born and raised in Durban, Nadine attended the University of KwaZulu-Natal and holds a Bachelor's Degree in Economics and Marketing and an Honours in Marketing Management. She loves a good challenge.
---
Justin Naidoo
Junior Business Analyst
"I'm strategic, strong-willed, have a good work ethic and a drive for healthy competition."
Justin describes himself as an enthusiastic and determined individual who is motivated by hard work. The twenty-four-year-old from Chatsworth graduated with a Bachelors of Business Science from the University of KwaZulu-Natal and has an Honours in Supply Chain Management. He hopes to grow and be an inspiration to others by gaining as much experience as he can.
---
Priyanka Nathoo
Allocator
"I am driven by fast-paced environments and working with teams."
Twenty-four-year-old Priyanka Nathoo studied a BCom Degree at the University of KwaZulu-Natal, completing her Postgraduate studies in Supply Chain Management. She describes herself as ambitious, results-driven and her short term aspiration is to become a merchandise planner where she can use her skills and capabilities to the fullest.
---
Danielle Ogle
Buyers Assistant, MRP Home
"My aspirations are to continuously grow, inspire others to follow their passion, give back to the community and establish myself in the retail industry."
Creative spaces, design and nature are just some of the things that make twenty-two-year-old Danielle tick. The Montclair resident hopes to continue learning and gaining experience with a long-term goal of branching out and running her own clothing business as an independent designer.
---
Lethukuthula Mlambo
Trainee Planner
"I am passionate about fashion, family and eradicating financial illiteracy."
Born in Ladysmith, Lethu opted to pursue a career in retail because of the constant challenges and excitement in the field. After graduating with a BCom Degree from the University of KwaZulu-Natal she joined the programme, where she has learnt from people in the industry and has grown extraordinarily as an individual. Read more about Lethu's journey to retail here.
---
Suhail Rajah
Allocator
"I aspire to gain as much corporate experience as possible, further my studies and eventually become an entrepreneur to help create jobs and make a difference to the community and country."
Suhail Rajah loves learning new things and having positive social interactions by surrounding himself with peers who challenge him to become a better person. The twenty-four-year-old Durban resident has a BBA (Marketing Management) Degree through IMM Graduate School. Read more about Suhail's journey to retail here.
---
Musawakhe Ngubelanga
Trainee Manager
"This has been an extraordinary opportunity to get exposure to the supply chain. It's also been amazing to learn new things, meet new people and be part of a competitive team."
Musawakhe is an enthusiastic twenty-four-year-old from Durban who is inspired by success and greatness. He developed his entrepreneurial skills early by running a small business retailing snacks at school and running a corner shop after school and on weekends where he employed 10 of his peers to accelerate sales. He has a National Diploma in Retail Business Management.
---
Nkalipho Luyanda Zuma
Regional Coordinator
"I have always had a passion for management and dealing with people."
After completing her BTech in Management, twenty-three-year-old Nkalipho joined the programme as an intern for a Store Manager. This Mariannhill resident believes she has found her second home in retail and aspires to one day be a National Operations Director.
---
Phumudzo Mashamba
Trainee Location Planner
"I'm passionate about making an impact in people's lives and helping in any way I can."
Twenty-four-year-old Phumudzo from Venda studied an undergraduate degree in Finance, Economics and Management and an Honours Degree in Business Finance. She always wanted to work in retail and thought she had to choose between her love of numbers and retail. Fortunately, through this internship, she's realised she could do both. She hopes to become the best Location Planner.
---
Aphiwe Msutwana,
OPS Trainee
"I hope to learn how to run a store, learn the region, learn the province and learn about international markets to be able to reach more customers and see happy MRP shoppers for the next 100 years."
Aphiwe comes from the Eastern Cape and has a Bachelor of Business Administration from the University of KwaZulu-Natal. He's fascinated with how to become a happy store manager as he realises that customers come back to buy products if they are serviced by joyful and passionate people.
---
Thandeka Mkhonza
Allocator
"I aspire to be the best at whatever I do and live by my own quote, 'Push yourself to the limit until you've achieved all you want for yourself'."
Born and raised in Ladysmith, Thandeka is a twenty-two-year-old BCom Accounting graduate (the University of KwaZulu-Natal) who is interested in gender equality. She hopes to show all the incredible things that women have done.
---
Zazi Wandile Thabo Sosibo
Trainee Location Planner
"I decided that my passion and drive were in the commerce fraternity."
Zazi was born in Manguzi, a small town near the Mozambique border, before moving to  Empangeni where he completed his schooling. It was here that Zazi excelled academically in leadership positions and discovered his passion for commerce. He holds a BCom in Economics with Finance and Supply Chain from the University of KwaZulu-Natal and an Honours in Quantitative and International Economics.
---
Nash-Leigh Stoffels
Trainee buyer
"The idea of expressing yourself simply through your choice of clothes, and how this message is perceived by the viewer, has always intrigued me."
Durban born Nash-Leigh decided to follow her passion for fashion and study Fashion Design at the Durban University of Technology. After hearing more about sustainability and the process of getting the product from the manufacturer to the customer she's honoured to be a part of a leading fashion retailer that merges fashion and sustainability.
---
Khadija Dada
Buyers Assistant
"I believe that the MRP Group is one of South Africa's leading companies and I wish to grow and prosper within the company."
Twenty-three-year-old Khadija Dada is a highly motivated and hardworking individual who adapts well to change and thrives on overcoming challenges. She completed her BCom Postgraduate Degree in both Marketing and Supply Chain Management at the University of KwaZulu-Natal and her short term goals are to be the next buyer and achieve her KZN Figure Skating colours.