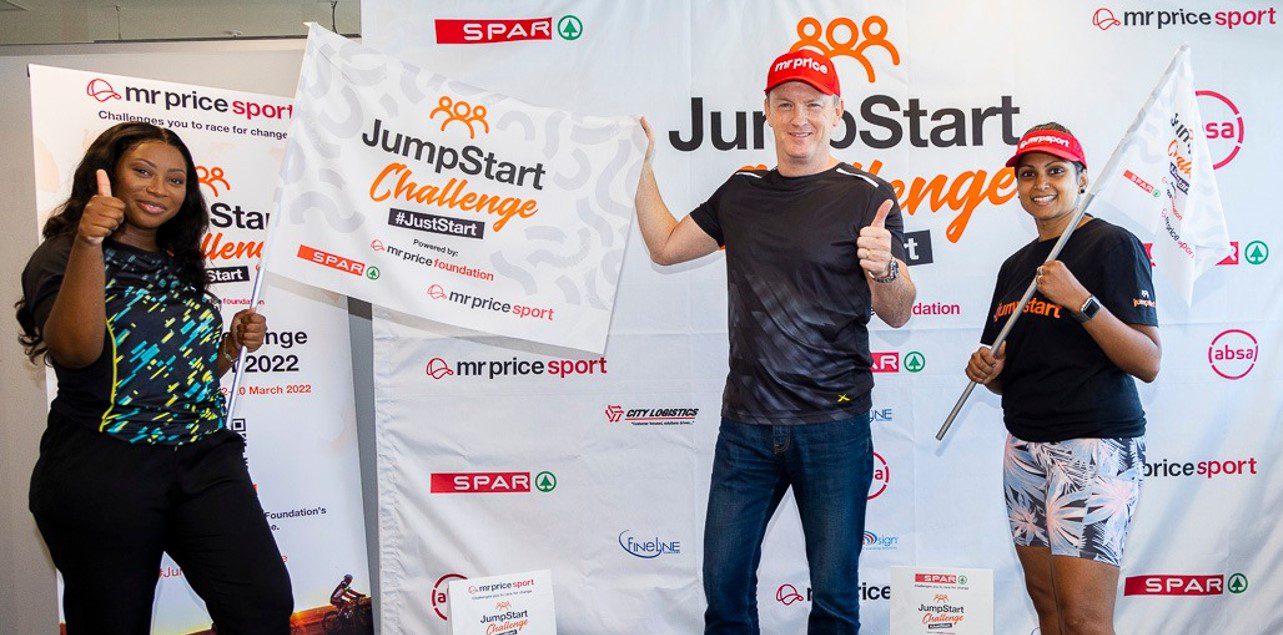 Mr Price Group CEO Mark Blair (centre), Mr Price Group internal communications specialist Ruth Mthembu (left) and JumpStart programme head Yurissa Sawers (right) call on South African corporates to step up to the JumpStart Challenge. © Mr Price Foundation / Pierre Tostee
MR PRICE GROUP CEO Mark Blair has accepted the JumpStart Challenge – and now he's challenging corporate South Africa to do the same.  
"It's time for us all to put our best foot forward for our youth. I've accepted the Challenge to raise funds for the JumpStart skills development programme. I challenge all corporates to #JustStart and accept the Challenge. A few steps today could unlock tomorrow's potential," said Blair.  
The SPAR Group and ABSA have already answered Blair's call, by signing up for the Challenge. Will your company be next?   
There's just enough time to get your staff signed up, with the virtual Challenge from 12-20 March, and the big physical event kicking off at Holla Trails on Sunday, 13 March. There is a selection of distances and disciplines to chose from, so everyone can participate: from a 3km walk/run to a 100km ride.
The Challenge is Mr Price Foundation's biggest fundraising event of the year. Proceeds will help provide unemployed youth with life skills and retail training through the JumpStart programme. With youth unemployment at record high levels, there's never been a better time to get moving for our youth.  
VIRTUAL CATEGORIES  
Run or Walk: 3km, 7km, 15km   
Ride: 15km, 50km, 100km  
PHYSICAL CATEGORIES AT HOLLA TRAILS 
Run or Walk: 3.3km, 8.5km, 14km   
MTB Ride at Holla Trails: 15km, 50km, 95km   
Holla Trails Start Times 13 March
6:30am: 95km cycle
7:30am: 50km cycle & 14km run/walk
8am:  8.5km run/walk & 15km cycle
8:30am:  3.3km run/walk
Entry Fees:
SA virtual entry: R99
Physical entry at Holla Trails: R140 ride  *  R120 run/walk
International: $10