​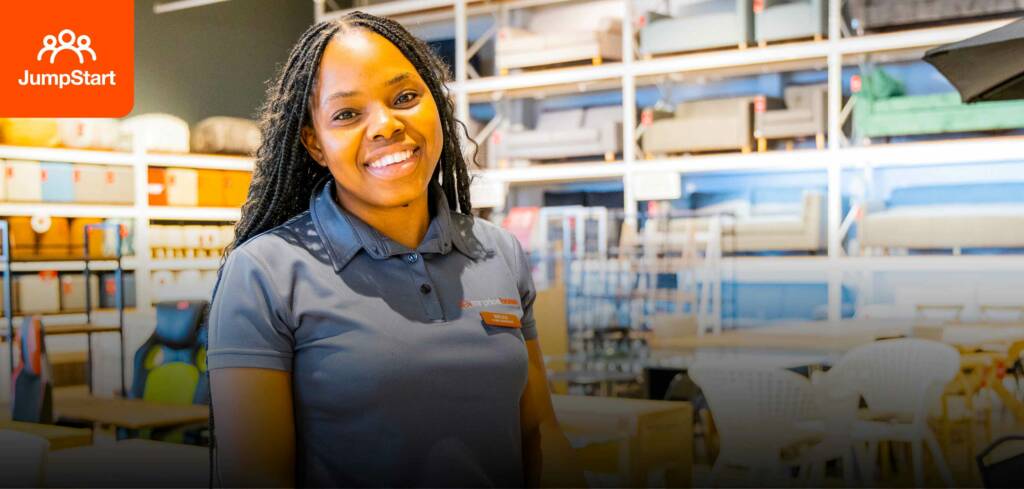 THIS WOMEN'S MONTH, we celebrate the brave and resilient JumpStart women who are embracing opportunities to unlock the doors to a brighter future. Women's Month is our chance to celebrate their triumphs and progress, despite many challenges and hardships. 
One of our JumpStart leading ladies is 25-year-old Welile Ndaba, who was born and raised in Estcourt in KwaZulu-Natal.  Welile is no slouch when it comes to learning and hard work. She holds two qualifications: a Higher Certificate in Dental Assisting and a Diploma in Textile Technology. She also started a small décor and gifting business, and during her university years she studied Mandarin and was an event coordinator for a non-profit organisation.  
With so many interests and avenues open to her, Welile's career took a different path when she completed JumpStart's Retail Frontline Programme in 2018, at the age of 20.  Immediately after training, she started working at Mr Price Home as a December casual, while also working part-time at Sheet Street head office.  
Then, in 2021, she took up an incredible opportunity to complete a 10-month internship in the JumpStart Professional Retail Programme (PRP).  
Welile gained invaluable exposure to the retail world and discovered a love for retail – while also polishing her presentation skills, leadership skills and learning the importance of discipline and hard work. Since completing the programme, she has progressed up the career ladder at Mr Price Home, advancing from sales associate to assistant manager, to her current position as store manager at Mr Price Home Ladysmith. 
"JumpStart changed my life by exposing me to the different levels in retail," says Welile.  
A kind-hearted quick-thinker, Welile's role model is another South African leading lady worthy of mention: Nomzamo Mbatha. A Hollywood actress born in KwaZulu-Natal, Nomzamo makes a difference both on and off the screen. "I admire Nomzamo because of her bravery and for serving humanity through different brands," says Welile. 
Welile has only just set off on her journey of development and self-discovery and has many more plans for her future. "My goals are to further my studies and make sure that the young women that I'm mentoring reach their potential goals. I also want to grow at Mr Price Group to become a fashion buyer – and would like to improve my capacity of being a successful entrepreneur." 
Her advice to other young women is this:
"Even the greatest were once beginners. Don't put off your aspirations because you believe you aren't ready. Take the first step. And don't give up simply because things are getting tough. Instead, push even harder so that your hard work pays off."  
 JumpStart women of South Africa, we celebrate your strengths and abilities! We are honoured to play a role in developing your potential.