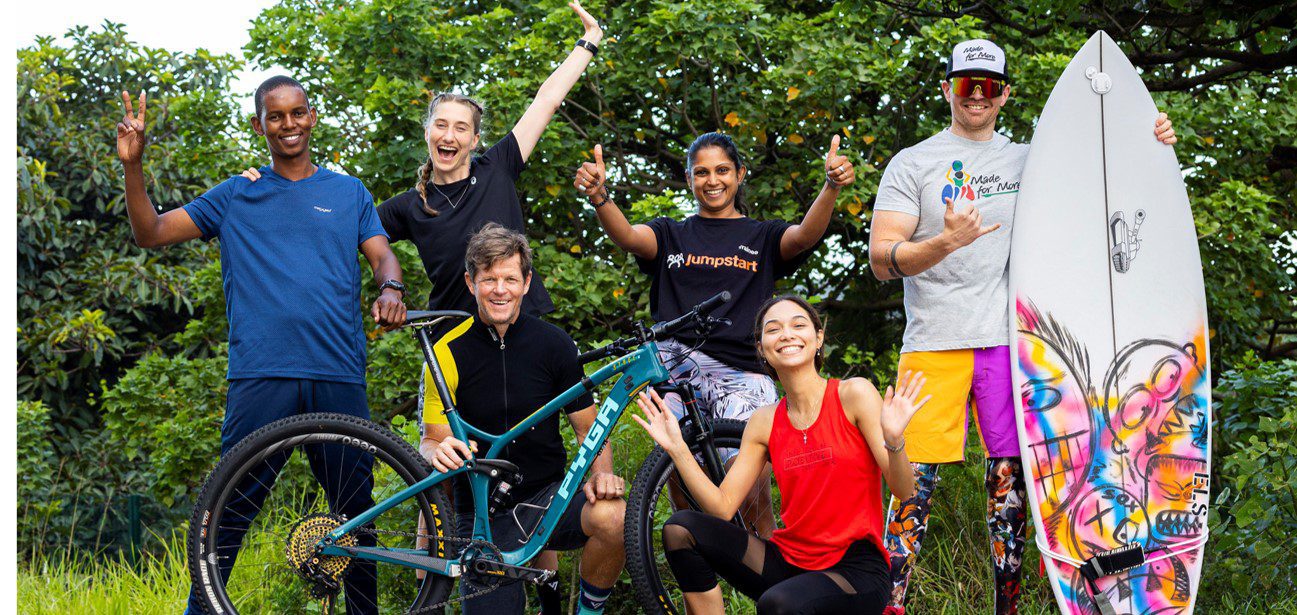 Will you accept the Challenge? These heroes have! From left: JumpStart graduate Nceba Njanda, Challenge ambassador Chiara Benati, SA Rugby Legend Jeremy Thomson, JumpStart programme head Yurissa Sawers, JumpStart graduate Danelle Ogle, and para-surfer David Williams.  © Mr Price Foundation / Pierre Tostee
IT'S OFFICIAL! Entries are open for the JumpStart Challenge! The Challenge is our major fundraising sports event from 12-20 March 2022, suitable for cyclists, runners and walkers of all ages and abilities.
Click here to watch a short video.  
Choose to join the Challenge virtually, anywhere in the world, or join the physical event at Holla Trails in Sugar Rush Park, Ballito.  Sunday 13 March is the big day at Holla Trails. The park will be open from 6am to 6pm and a fan-park experience is anticipated.  
Many South African sporting heroes have already pledged their support to this big event; and clubs like Ballito's FunTribe and Maxed Elite Running Club are also 100% in.  
They've accepted the Challenge. Will you? 
"This is an exciting opportunity to raise funds for South Africa's youth while doing something you love. Jump on board and set your own fundraising goals. Challenge others in your networks to do the same. A bit of healthy competition is a great motivator," said Head of Mr Price Foundation Karen Wells.  
This is the Foundation's major fundraising event of the year. Every rand raised goes directly to the JumpStart skills development programme, to empower young South Africans with skills for the retail world.  SPAR and Mr Price Sport have partnered us to bring this event to life; and to make an impact on the high levels of youth unemployment in South Africa.  
It's estimated that 9,4 million youth aged 15 to 34 are not in employment, education or training, according to Stats SA's Quarterly Labour Force Survey Quarter 3: 2021.  
"Millions of youth have given up hope of finding a job or furthering their training. Mr Price Foundation is committed to our youth. By developing their skills through JumpStart, we can unlock their career potential and employability. This gives them a greater opportunity to break the cycle of poverty and inequality," said Wells. 
JumpStart Challenge categories
Virtual run or walk: 3km * 7km * 15km
Virtual ride: 15km * 50km * 100km
Physical run or walk at Holla Trails: 3.3km * 8.5km * 14km
Physical MTB ride at Holla Trails: 15km * 50km * 95km 
Holla Trails Start Times 13 March 
6:30am: 95km cycle
7:30am: 50km cycle & 14km run/walk
8am:  8.5km run/walk & 15km cycle
8:30am:  3.3km run/walk
Entry Fees:
SA virtual entry: R99
Physical entry at Holla Trails: R140 ride  *  R120 run/walk
International: $10
#JustStart #JumpStartChallenge