Jump Start created an opportunity for Durbanite Suhail Rajah to combine his love for sports and flair for business as a foundation for his future in the retail world.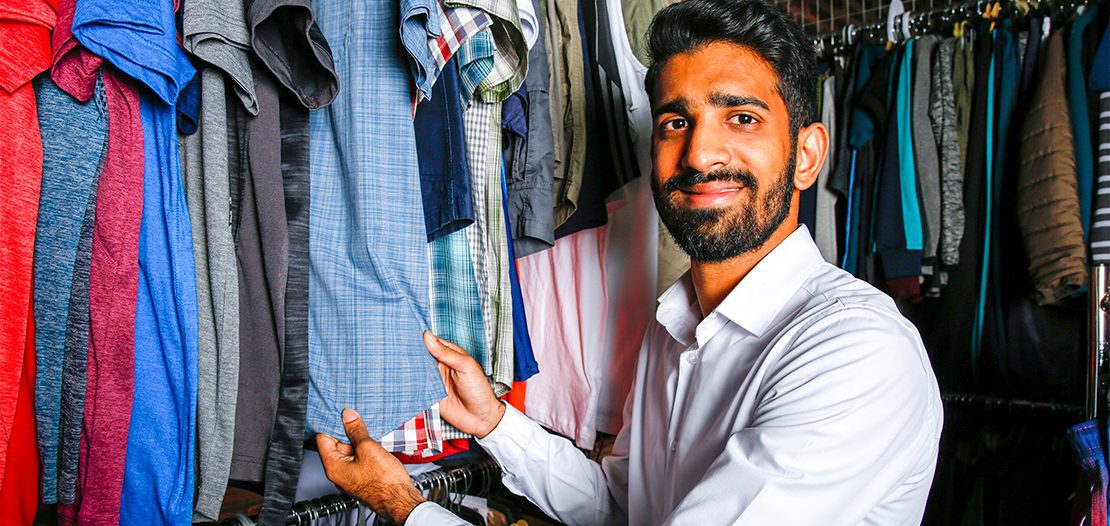 Driven by his will to win, through his love for cricket, Jump Start created an opportunity for Durbanite Suhail Rajah to combine his love for sports and flair for business, as a foundation for his future in the retail world.
"This structured programme, specifically designed for graduates, certainly pushed the boundaries, putting us through our paces, allowing us the opportunity to learn from established retailers and manufacturing companies within South Africa," says 24-year-old Suhail, who is driven by a need to succeed.
After matriculating in 2011, Suhail completed a BBA (Marketing Management) degree through IMM Graduate School, and joined the MRP Foundation's Jump Start Professional Retail Programme in 2017. Once the Programme is complete, students are equipped with skills for buying, planning and operations management. Students are also required to complete a month-long internship in manufacturing and supply chain. Internships also include working in a retail store environment and at a retail head office.
Passionate about brands, technology and sports, Suhail says, "I love a challenge, and that's why the retail environment stands out for me. One minute you are on top, and the next, your competitor is ahead of you. As a business, you have to constantly ensure that you are giving your customers great products at a great price and at the right time. It's a never-ending battle and I hate losing!"
Suhail says that the Programme thus far has provided him with a good understanding of the most important functions of any retail business, which are planning, buying and store operations.
"I was privileged to rotate divisions monthly within a national retailer and see how each division operates. I also had the opportunity to visit manufacturers to get a better understanding of how a value chain comes together," he adds.
Suhail looks to Nelson Mandela for inspiration. "His positivity and his vision for the country were most admirable. He always saw the bigger picture. He was focused on goals and a mission beyond himself," says Suhail.
"Don't be afraid to be proactive and ask as many questions as you can," Suhail advises future Jump Starters. "Use the opportunity and experience as a stepping stone to improve and empower yourself!"
Suhail works as an Allocator for an established homeware retailer in Durban. His job entails ensuring that stores have the correct amount of stock to service customers nationwide. This allows stores across the country to maximize sales on items.
Suhail plans to use the training and experience that he has received through Jump Start as an opportunity to grow within the retail industry, and to continue learning, developing and adding value to all the relevant stakeholders. "I aspire to gain as much corporate experience as possible, further my studies and eventually become an entrepreneur to help create jobs and make a difference to the community and country."
As one of 16 graduates, Suhail will graduate on November 23, from the MRP Foundation's inaugural Professional Retail Programme.
"The MRP Foundation is proud of all our graduates, each of whom has already been employed. Their strong resilience, positive attitude and boundless passion for retail are exactly the traits required in the fast-paced world of retail," says MRP Foundation Manager, Karen Wells.
"The retail industry is such, that graduates have many opportunities in which to utilise their knowledge to gain invaluable experience to unlock their potential and add value in the fast-paced, ever-evolving environment," Karen emphasises.
Discover how you too can unlock your potential and join the retail world by applying for one of the MRP Foundation's skills development internships. Applications are now open to join the 2018 Pre-Production Programme and the Professional Retail Programme.
Our Retail Programme develops skills to assist youth in becoming employable in a variety of careers that span the retail industry. These programmes include training for entry-level positions in stores, sales, distribution centres and financial services as well as offering graduates the opportunity to learn professional retail skills for buying, planning, operations management development and store management.
Words by Farzanah Asmal