How we impacted South Africa's youth in 2019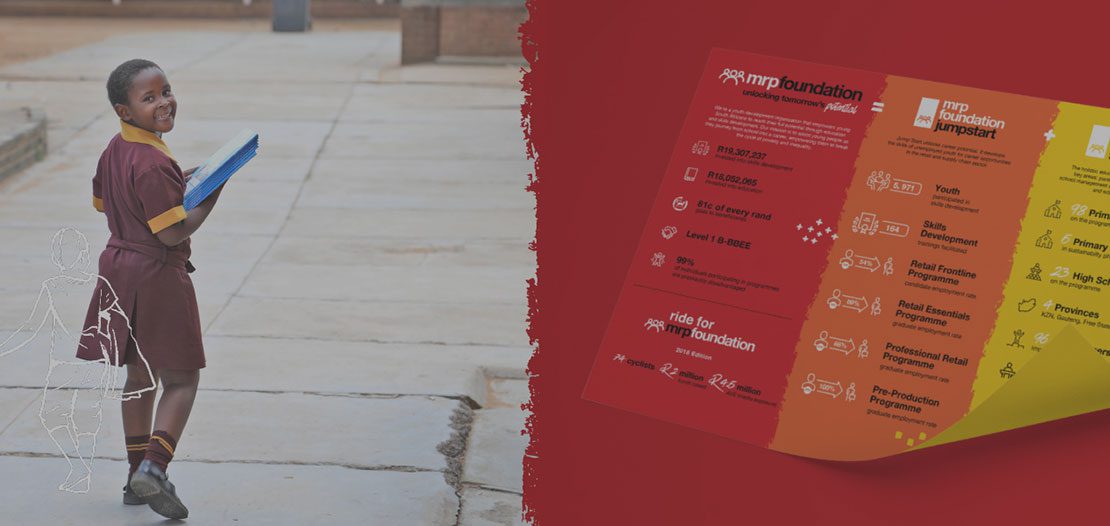 As a youth development organisation, MRP Foundation's purpose is to enable young people to reach their potential. Through our education and skills development programmes, we educate and empower young South Africans. Thanks to corporate partners, private funders and donors we were able to do a lot of good in the 2019 Financial Year (April 1 2018 – March 31 2019).
Our F2019 Impact:
R19,307,237 invested into the Jump Start Programme (skills development)

R18,052,065 invested into the Schools Programme
81c of every Rand went to beneficiaries
We remained a Level 1 B-BBEE

99% of individuals who participated in the programmes were previously disadvantaged
To help us create real impact, we work together with like-minded organisations that connect strongly on our purpose. By partnering with industry and community stakeholders we realise we have a greater chance of solving our county's most pressing challenges — access to quality education and youth unemployment.
As a non-profit, success is measured by the impact created through the Foundation, not profits. This is something that drives Karen Wells, Head of MRP Foundation, to continue to innovate within the programmes and lead the team with greater purpose.
"Reflecting on our impact over the last year, I am very honoured. Our team and implementation partners have worked hard to achieve programme goals and in doing so, have helped young South Africans break the cycle of poverty and inequality. As we move into the new financial year, our aim remains to ensure our programmes make the biggest impact they can. South Africa needs everyone — individuals, communities and business — to work together to build a stronger nation. "