​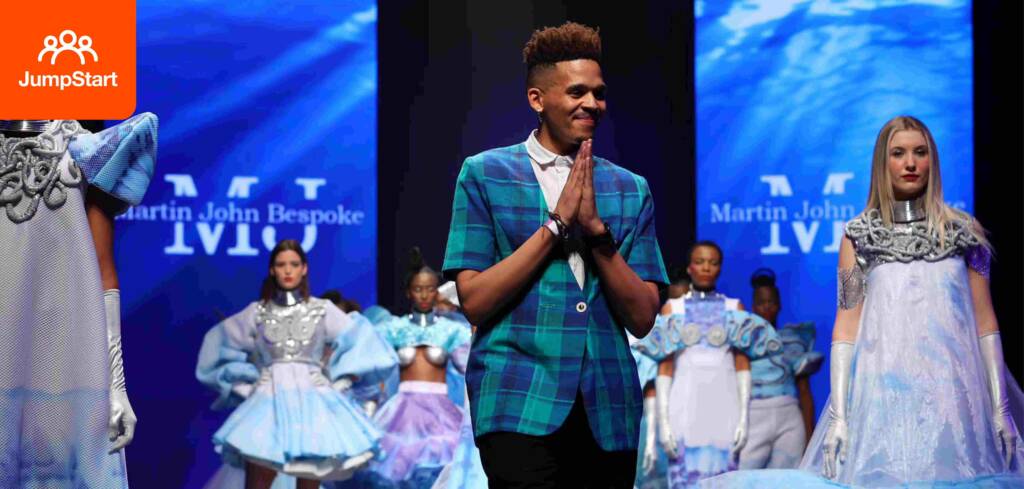 MARTIN JOHN STEENKAMP won the DFF Fashion Innovation Award 2023  ​
He completed Mr Price Foundation's 10-month JumpStart Pre-Production Programme in 2016 ​
Raised in the rural Eastern Cape, Martin is now creating his designs at his studio in Pietermaritzburg
​JUMPSTART IS DETERMINED to do skills development the right way – because youth development can yield high returns. Award-winning fashion designer Martin John Steenkamp is a shining example of what South Africa's youth can achieve with the right skills and mindset.  ​
A super talented yet humble designer, Martin's designs have lit up the runways of many prestigious shows, from the Mercedes Benz Fashion Week in Ghana to the Durban Fashion Fair (DFF). He's won countless awards, most recently the DFF Fashion Innovator Award 2023 for his Martin John Bespoke collection; and placed second at the 2023 Hollywoodbets Durban July in best women's and best menswear categories.  ​
In an exciting 2022 collaboration with Mac cosmetics, Martin presented his "African Renaissance" collection during the release of the Marvel film "Black Panther: Wakanda Forever". 
​
For a young man who grew up near Matatiele in the rural Eastern Cape, seeing his designs globally recognised is a dream come true. His success is the result of passion, flair, fortitude – and a series of well-considered career choices. One of these was the decision to reinforce his fashion degree with Mr Price Foundation's 10-month JumpStart Pre-Production Programme. 
​
An intensive practical and theoretical programme, Martin graduated from JumpStart top of his class and gained a foothold into the clothing industry. 
"JumpStart creates a stepping stone for young graduates entering the industry. It allows one to build a more holistic view of the industry. Most importantly, it instils skills, knowledge and insight, enabling students to approach the industry with a greater sense of understanding and confidence," says Martin. ​
Martin is currently manufacturing his designs at his own studio in Pietermaritzburg, where he employs five people. Also a lecturer in Clothing Production at Umgungundlovu TVET College in Pietermaritzburg, he is nurturing the next generation of designers.  ​
 ​
"Working with so many youngsters gives me the opportunity to share my skills and learnings on how to conceptualise designs. My students can see that I walk in the fashion industry, and don't just talk about it. It has been such an amazing journey as I share my industry experience and learnings from the JumpStart programme." ​
  ​
With millions of South African youth struggling to find employment, Martin gives the following words of encouragement: "It's important for you to know who you are, and to walk into spaces and to fill those spaces with an understanding that you are not just enough, but you are more than enough! As a young person, you are free to think and learn as you wish, free to experience all that life has to offer, and free to become anything and anyone you want."  
​
​Mr Price Foundation is excited to be nurturing home-grown talent like Martin. You too can help shape the next generation of retail and manufacturing stars!  DONATE TO JUMPSTART TODAY​
​
Photo Credit: Durban Fashion Fair​